Textiles & Apparel / Garment
2017-06-15
CHIC Autumn Shanghai coming soon

(c) 2017 Chic
The study 'The Demand is Increasing – Fashion Consumption in China' elaborated by OC&C Strategy Consultants confirms Chinese consumers' high affinity for international brands. Chinese millenials are considered as extremely free-spending consumers. Very popular are extraordinary creations and styles to underline the personality and individuality.
The bridge for entering the Chinese consumer market

The potential for customer acquisition and customer loyalty in the fact-to-face business

CHIC is the largest fashion fair in Asia taking place since over 20 years – till 2014 in Beijing and then in Shanghai. The next show in October will be the third Autumn edition. CHIC Autumn is a compact and concentrated source for professional visitors. It covers around 50.000 sqm (CHIC Spring in March covers 100,000 sqm) and offers with around 850 exhibitors a comprehensive overview on Chinese and international fashion brands.

CHIC creates a wide area and platform to conduct personal talks with prospective clients, drawing appropriate conclusions and experiencing the product acceptance in the market. CHIC is not only a trade show for established brands, but also for young designers who can realize promising business contacts.

CHIC Autumn facts in brief
Around 850 exhibitors will show their latest collections at the fair; they come from around 20 nations and regions. All fashion product lines and styles will be presented: from ready-to-wear for women/men/kids via accessories, bags and shoes to body/beachwear.
The international pavilions perform with all kind of fashion products in the style of department stores. Chinese brands, but also some international brands present together with their Chinese distributors their collections in different lifestyle sections: HERITAGE (leather/fur/outdoor), URBAN VIEW (menswear incl. bespoke and denim), NEW LOOK (womenswear), KIDS' PARADISE (kidswear), SECRET STARS (accessories, bags, shoes, cosmetic), IMPULSES (designer).
FASHION JOURNEY gives an overview on international brands, most of which have their booths in national pavilions.

CHIC YOUNG BLOOD is focusing on fashion for the next generation and creating a "clubbing feeling". Integrated as "shows in show" as well will be SHANGHAI BAGS and the Korean PREVIEW CHINA.
FASHION JOURNEY as international view on fashion

Nearly since its beginning of CHIC the Italian and the French pavilion are participating at CHIC. Impressing presentations at coming CHIC AUTUMN will be offered in the Italian and French Pavilion again. Thanks to their long-time participation, the Italian brands Dolcepunto or Giovanni Fabiani for example can report about a success story in the Chinese market. These brands are distributed in many multi brand stores, Giovanni Fabiani sells as well via the online shopping platforms 'eastbay.com' and 'shoplinq.cn'.

Hong Kong will join CHIC Autumn with numerous companies, further European nations like UK, Poland, Spain and Germany are notified.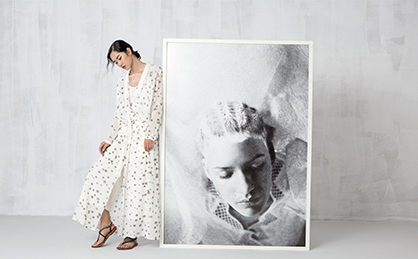 Impulses, Xianroo, designers' section at CHIC Shanghai
CHIC – service center

CHIC considers itself as mediator in the fashion sector and supports exhibitors in all processes of their participation. Thus, the professional database, which contains more than 250,000 contacts to department stores, shopping malls, distributors, agencies, etc., is constantly being worked on. The social media promotion via weChat is one of the most important communication tools for an efficient acquisition. The innovative stand construction of the fair belongs to a continuous development and 'form follows function' stimulates the layout of the fair. CHIC's efficient press department provides press contacts to electronic media, print media and social media of fashion, business, and news in the run-up and during the show. Special highlights during CHIC are around 20 fashion shows at the Fashion Form. Worthwhile to mention that CHIC also assists its international exhibitors in organizing individual own fashion shows.
The CHIC Autumn 2017 will take place from October 11 to 13, 2017

Visitors' facts CHIC Autumn 2016
65.714 professional visitors have been registered at CHIC Autumn 2016 coming from all over China but also Hong Kong, Taiwan and further nations. The major part of the visitors recruits from the trade, remarkable is the increase of multi brand stores.
CHIC is organized by Beijing Fashion Expo. Co. Ltd and China World Exhibitions, supported by China National Garment Association, The Sub-Council of Textil Industry (CCPIT), and China World Trade Center.

Related News
Latest News Textiles & Apparel / Garment
More News from Chic

Latest News