Textiles & Apparel / Garment
2017-01-20
Asia's largest fashion trade show attracts the international world of fashion

CHIC show Chafor (c) 2017 CHIC
1,200 international and national fashion exhibitors are presenting new trends and tendencies for fall/winter 2017/18 at CHIC Shanghai. The largest fashion trade show in Asia is expecting over 100,000 trade visitors from all over China but also from further nations. CHIC takes over the role of a mediator to assist between fashion industry and fashion trade. CHIC is considered as the bridge into the Chinese consumer market.
The focal point of interest in the market is the consumption oriented middle class in China. Even though the growth rates have been stabilized at 6.7% in 2016 and have not been in a two-digit range for some time, it is evident that the middle class earns more and more money. Growth has also been confirmed in the retail business, especially a rapid increase in internet sales. There are over 700 million mobile users in China making it the world ́s biggest mobile communication market. Focus is put on the "millennial" who contribute to strong sales. "Millenials" are considered as trend setters and driving force for innovations in technology and fashion. In general, the consumer behaviour is characterized by the wish for individualism and a unique way of dressing and styling.
CHIC is the information platform for new trends in China. During the recent trade shows of CHIC it has been realized that more and more orders are placed. CHIC disposes of a powerful network of the Chinese fashion industry, of the complete Chinese retail market including e-commerce platforms, agents, importers and influential associations for industry, design and trade. CHIC is organized by Beijing Fashion Expo and China WorldTrade Center Beijing. CHIC is sponsored by China National Garment Association, China World Trade Center and the Sub-Council of Textile Industry CCPIT Tex.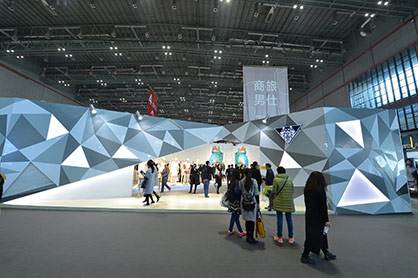 Pic: Chinese brand Septwolves
CHIC Shanghai takes place in the new fairgrounds, the NECC National Exhibition and Convention Center in Shanghai. The trade show covers halls 1, 2, 3 and 4 with a total area of over 100,000 sqm. CHIC as information platform is particularly necessary in view of the development and expansion of multi brand stores. China is the second largest retail market in the world after the USA. The growing retail competition in the market requires innovations and uniqueness in creating own concepts. Omni channel strategies contribute to attract consumers and show efficacy. CHIC is considered as a source for novelties in the market.
The structure of exhibitors at CHIC
Numerous international exhibitors are showing at CHIC. The foundation, however, represent strong brands from China who dispose of an excellent distribution network in China. CHIC is clearly and competently structured in special segments such as URBAN VIEW (menswear), NEW LOOK (womenswear), KIDS' PARADISE (kidswear and school uniforms), HERITAGE (leather/fur/downwear), SECRET STARS (accessories, shoes, bags), IMPULSES (designers' fashion) and FASHION JOURNEY (international participations).
The top Chinese brands at CHIC
Renowned brands which are very well represented in the whole Chinese market are among others for menswear Hodo, Roman, Saint Angelo, Yishu, for womenswear the brands Meneser, Asdet, SOSOCK, HIVE, ARTFUSION, Dankeyun, ESBACK, SMY, M'SUYA, YERAD, BAGELY, FCILE, TKF SPASSO, for leather/downwear Dongtong, NUOZI II, SOVOGUE, EMMA, Yiahn and for accessories Disney (licence), Paul Frank, W.P.C., Aurora, Fast and Furious, Calvin Klein (licence), PISIDIA, DOT-DROPS or Hello Kitty (licence). New at KIDS' PARADISE is the lifestyle segment DAY DAY UP withproducts from various categories ranging from interior design, outdoor travel to "school & classroom" and "party time".
The area IMPULSES is distinguished by high-class design and individuality. It is the designers' section where among others designers belonging to China ́s top ten in fashion design are showing, just as prominent designers from other nations such as Hong Kong are presenting their new collections.

Due to the high demand for shoes and bags in the Chinese market, special attention is paid to these product categories in all segments of the fair including the area of FASHION JOURNEY. Chinese brands are concentrated under the title SHANGHAI BAG Expo at CHIC.

Invitation to a journey: over 18 nations and regions, apart from mainland China, are participating at CHIC primarily within the area FASHION JOURNEY. Traditional and large pavilions are organized by Italy titled LA MODA ITALIANA and France with PARIS FOREVER. Italy has been showing at CHIC almost from its beginning; since three years under the cooperation of Sistema Moda Italiana and Assocalzaturifici supported by the Italian Ministry for Economic Development. ITA Italian Trade Agency is promoting the Italian participation. The Italian participation is one of the largest of the international ones at CHIC with important brands for shoes, clothing and accessories for men and women. PARIS FOREVER will be showing a kaleidoscope of French fashion brands from ready-to-wear to accessories, shoes and bags including brands such as LEO & UGO, Manuelle Guibal, Sprung Paris 1931, La Bagagerie, Lener Fabri, Que de Manteaux, Redskins.

The pavilion MADE IN GERMANY – within the framework of the foreign trade fair programme of the Federal Ministry of Germany for Economy and Energy – will be organized by Messe Duesseldorf. It will be featuring a product variety from ready-to- wear, fur fashion to bags and shoes. First time exhibitors are "A Cuckoo Moment" with high-end accessories such as bracelets made of precious materials or Leguano with so- called `bare foot shoes' favouring natural walking.

TURKEY participates - as in the past three years - in the area of HERITAGE and shows around 20 brands specialized in leatherwear, furs, shoes and bags. The participation is organized by IDMIB/ITKIB Istanbul.

Individual participants are coming from Spain such as XTI (shoes) and José Roca Barcelona (fur fashion), from UK among others Vendula London, Sweedom, Cabin Zero and Smart and Joy (womenswear) and the accessories brands Jianhui London, Melissa McArthur/MMJ, Tina Lilienthal. Vegan designers' fashion will be presented by Sanikai from Switzerland.

Peru, Japan, Taiwan, Hong Kong, South Korea are taking part at CHIC with own pavilions as in the past. Canada will be there with the brand JAC and from Thailand the brand Suda will show.

SERVICE & INNOVATION

Technical progress in the fashion industry will be a topic at CHIC which will be discussed in seminars, but also presented at the fair, e. g. by Regentsoft with its innovative software for multi channel solutions and customer centered service systems. Qishon from Xiamen will display its 3D garment development technology.

CHIC is a special partner for its international exhibitors and promotes them prior and during the fair with match-makings and intensive social media promotions via WeChat - the most important advertising tool in the Chinese market. CHIC is also implementing flanking measures like press activities for their exhibitors. Most important media partner is CCTV, the strong Chinese TV station, alongside further TV stations who report daily from CHIC. A total of 500 journalists are expected, mainly from China, but also from Europe, Asia and America.

Entertainment along with infotainment is offered by the numerous fashion shows at CHIC, among them 10 CHIC Shows.
Related News
Latest News Textiles & Apparel / Garment
More News from Chic

Latest News