Techtextil 2022
2022-06-09
Groz-Beckert at Techtextil 2022 in Frankfurt

Groz-Beckert at techtextil 2022 in frankfurt © 2022 Groz-Beckert
From June 21–24, 2022, Groz-Beckert will be presenting the highlights of its Knitting, Weaving, Felting, Tufting, Carding and Sewing product ranges at Techtextil in Frankfurt am Main, Germany. Visitors will find the Groz-Beckert booth in Hall 12.0, Booth B90.
In the Knitting area, Groz-Beckert will be showcasing its products and services for the knitting and warp knitting industry. The focus here is on flat knitting needles for technical and industrial textiles. Groz-Beckert developed the SAN TT needle for greater process reliability for knitting technical textiles such as sports shoe uppers. Visitors to the trade fair will be able to see its properties and advantages for themselves. The division will also be demonstrating the precisely coordinated interaction between knitting machine needles and system parts.

With the WarpMasterPlus, the Weaving product area will be presenting the latest generation of fully automatic drawing-in machines from Groz-Beckert. The division will also be demonstrating the advantages of monowire heald at Techtextil. the bonded thread eye, also known as maillon, has the advantage that no leaded solder needs to be used for fastening, making the healds more environmentally friendly and resource-saving.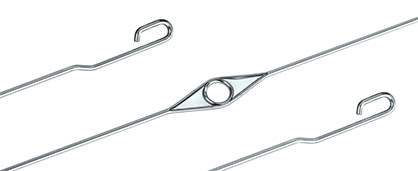 Groz-Beckert Weaving Maillon © 2022 Groz-Beckert
The Felting product area will present its product and service highlights for the nonwovens industry. These include the HyTec P jet strip for spunlace customers as well as the GEBECON felting needle, dur needle, EcoStar felting needle and the Groz-Beckert customer product. Visitors will also experience the staple fiber needling line (SVL) up close in a virtual tour.

Groz-Beckert Felting Gebecon © 2022 Groz-Beckert
The Tufting area will be presenting its Gauge Part system, which is used in the production of tufted floor coverings such as carpets, bath mats or artificial turf.

The focus of the Carding product area will be on the Groz-Beckert InLine card clothing series for the nonwovens industry. The function and mode of operation of the SiroLock plus can be experienced at the booth using augmented reality.


Groz-Beckert Carding SiroLock plus © Groz-Beckert
In the Sewing product area, the focus is on various products and solutions for the sewing industry. With the special application needles SAN 5.2, SAN 10 XS and SAN 6 Groz-Beckert offers product solutions for demanding sewing processes. Groz-Beckert experts will also be providing comprehensive information on the patented INH (Ideal Needle Handling) quality management system and the software solutions developed specifically for this purpose – the "INH@site" app and the "INH@office" administration program.

The Groz-Beckert Academy and the Technology and Development Center (TEZ) will also be presenting themselves at Techtextil. Together they will be presenting their cross-divisional service program. This combines a wide range of training courses, testing services and joint developments under one roof. With customer-oriented standard solutions or individual offers, suitable solutions are found for a wide range of requirements.
Related News
Latest News Techtextil 2022
More News from Groz-Beckert KG

Latest News