Techtextil 2022
2022-06-02
New metal detector presented by E+L at Techtextil 2022

The metal detector MD 1005 protects textile machines against damage due to pieces of metal, e.g. broken needles, in the web © 2022 Erhardt+Leimer
From 21 to 24 June, Techtextil, an international trade fair for technical textiles and non-woven fabrics will take place in Frankfurt. At the fair, the Erhardt+Leimer Group, specializing in automation and inspection technology, will present systems for web guiding and spreading, web tension measurement and control, as well as cutting units for technical textiles.
In addition to these devices, which have proven themselves thousands of times worldwide for the simple, robust and reliable automation of production processes in the textile industry, E+L will be exhibiting a new metal detector at the trade fair – a further development of earlier systems, which can now detect even smaller metal particles in the fabric. In addition, a new seam sensor for the detection of cross-seams will be presented.
Metal detector with segment-by-segment evaluation

During the production of textiles, small metal particles find their way into the web due to the various processing steps. If these particles are not all detected, extremely costly damage may occur on the downstream machine parts, e.g. calender rollers. As a result, whole web sections are often converted into scrap. The metal detector ELMETA MDA 1005 / 1006 reliably and accurately detects the smallest metal particles over the entire width of the web. Per segment (300 mm) a signal LED on the sensor indicates the position of the metal particle in the web. The metal detector can be used for dry and damp web textiles and non-woven fabrics. Its function is assured at production speeds from 2 to 500 m/min.

Sensor acquires cross-seams as reliably as the human eye

The seam sensor marketed with the identifier SI 1001 detects, optically and therefore without contact, any type of seam on printed or single-color fabrics. New software algorithms make it possible for the first time to acquire cross-seams at the level of human perception. Along with a light transmitter and a matrix camera with lens, the sensor also includes a WLAN card for reliable communication with a smartphone, tablet or any other mobile terminal device.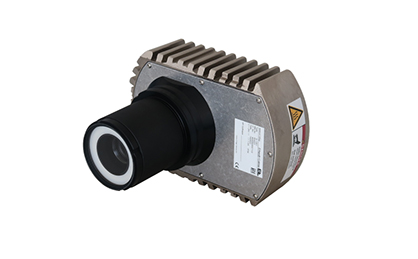 The seam sensor SI 1001 detects a very wide range of seams, even on printed textiles, thanks to special algorithms © 2022 Erhardt+Leimer
A dedicated app is also available using which, for instance, special seams can be tested offline. If a cross-seam is detected, a digital output in the sensor is switched so that, depending on the machine, for example the calender rollers can be opened or the seam left to run through the digital printing press without printing. The seam sensor can also be used to calculate the running meters per batch.

The E+L stand at Techtextil is in hall 12.0, stand A61.

Related News
Latest News Techtextil 2022
More News from Erhardt + Leimer GmbH

Latest News