Techtextil 2017
2017-04-25
PHP Fibers with focus on hybrid rovings und yarns based on bio-polymer at Techtextil
PHP Fibers, one of the globally leading producers in the area of high-tenacity filament yarns, will present its broad portfolio of technical Polyamide and Polyester filament yarns at Techtextil (Hall 4.1, Booth D21). The focus this year will be on Enka® TecTape Hybrid Roving and technical filament yarns based on bio-polymers.
Enka® TecTape Hybrid Roving is the starting material for the fully automated manufacture of continuous fiber-reinforced composites with a thermoplastic matrix. Thanks to its twist-free and tape-like structure, Enka®  TecTape Hybrid Roving efficiently combines continuous reinforcing fibers with thermoplastic matrix fibers. The resulting small distance between matrix fibers and reinforcing fibers enables short flow paths and consequently short cycle times in the manufacture of fiber composite parts. Enka®  TecTape Hybrid Roving is flexible and its lowfriction and fluff-free roving surface allows exceptional load-specific and convenient processing into complex fiber composite parts on a textile basis.
In order to reduce CO2 emissions for textile products, the use of bio-based raw fibers is appropriate. For this purpose, PHP Fibers offers two technical yarn types based on renewable resources:
Diolen® 150BT is the first technical polyester yarn with PLA polymers which are also biodegradable in composting facilities. Thanks to its greater strength compared to textile yarns, it is particularly suitable for use in agricultural textiles requiring limited durability. Enka®  Nylon BIO is a bio-based technical polyamide yarn which should be considered as an equivalent alternative to petroleum-based yarns, such as Polyamide 6 or 6.6. It has comparably good yarn and polymer properties and additionally features lower moisture absorption and polymer density.
PHP Fibers will be represented at Techtextil 2017 for the first time together with sister companies from the parent company Indorama Ventures.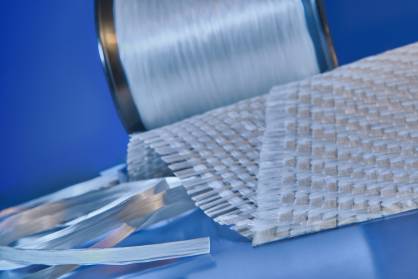 Pic: Fabric and Bobbin - Enka® TecTape Hybrid Roving (c) 2017 PHP Fibers
Related News
Latest News Techtextil 2017
More News from TEXDATA International

Latest News