Spinning
2022-09-15
The portal bale opener BO-P – the first step to optimum yarn quality

© 2022 Trützschler
Differences in trash content, color and packing density of bales repeatedly lead to quality fluctuations in the spinning mill. So do elementary fiber properties like length, fineness or degree of maturity. In times of rising raw material prices, bales from different origins and quality grades are increasingly combined into one bale feed – and they must be blended well to ensure consistent yarn quality. The portal bale opener (BO-P) is the answer to these challenges. Three years after its launch, there are more than 150 BO-Ps helping to meet the increased requirements for blending and fiber opening for customers worldwide.
Whether ring spinning, open-end, airjet or recycling applications, "the foundation for yarn uniformity is laid in the blow room," says Mr. Shi Chuangong, owner of Xiajing Xinshixing Textile Co, Ltd from China, which produces 30 tons of combed cotton yarn daily in its spinning mill. "With its larger working width and fine opening rollers, the BO-P meets these requirements exactly.

The BO-P can process up to six bales at the same time. As a result, fluctuations in quality or color in the bale feed are already almost non-existent before the next process step. In comparison, bale openers that can only process three or four bales in parallel already have a blending gap of 50 percent at this stage (for three bales versus six bales), or 33 percent (for four bales versus six bales).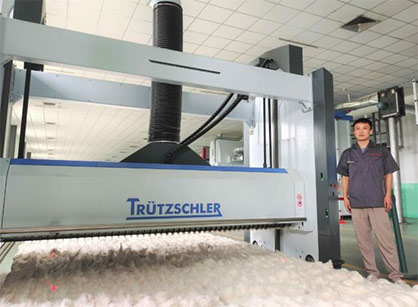 Mr. Hou Zongfei, Technical Chief Xiajing Xinshixing Textile Co., Ltd © 2022 Trützschler
Gentle opening, smaller fiber tufts, more efficient downstream processing

"The BO-P meets the requirements that we expect from a bale opener," says Mr. Hakan Karagöl, General Manager Iskur Textile, which produces 130 tons of OE and 58 tons of ring yarn in various material combinations every day. "The advantages of fiber blending and opening that are possible for subsequent process steps when using the BO-P have clearly exceeded our expectations."

Alongside the fiber blend, tuft size is another indicator of the quality of the fiber opening. The BO-P again benefits from its working width in this regard. For the same production quantity, the theoretical tuft size of the BO-P with a working width of 3500 mm is only half that of a bale opener with a working width of 1750 mm. The BO-P detaches the same amount of fiber material from twice the number of bales to achieve much finer tufts. In addition, the tooth density of the opening rollers is 25 percent higher compared to other bale openers. This makes detaching and cleaning the fiber tufts in the subsequent process steps considerably more efficient, so fewer good fibers are rejected.

Less space required

Today, spinning mills are faced with logistical challenges that require space-efficient solutions. In this context, the portal design of the BO-P offers a big advantage over other bale openers because less floor space is required for the same bale feed or production quantity.

The BO-P is also the right option for customers that want to process different materials with one bale opener. The number and length of different bale groups can be selected and programmed flexibly, up to 75 meters.

Higher productivity

The BO-P also sets new standards for productivity. It enables the production of 3000 kg/h (at 3500 mm working width) or 2500 kg/h (at 2900 mm working width).

Overview of the benefits of the BO-P:

Available as BO-P 2900 (working width 2900 mm) and BO-P 3500 (working width 3500 mm).

Production of up to 3000 kg/h.

Flexible working areas with permanent access for bale inspection.

State-of-the-art and maintenance-free drives.

Production-optimized suction.

Intelligent safety system.

"Optimally mixed and gently opened fibers from the very beginning, combined with a consistently high production output, convince day after day," says Mr. Hakan Karagöl, General Manager from Iskur Textile. "Many thanks to the entire Trützschler team."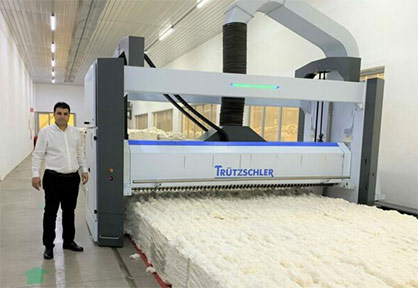 Mr. Hakan Karagöl, General Manager Iskur Textile. © 2022 Trützschler
Related News
More News from Truetzschler Card Clothing GmbH

Latest News