ITMA 2023
2023-05-11
Membership bonus and color testing at ITMA Booth
AATCC, the American Association of Textile Chemists and Colorists, connects the global textile community to empower an innovative, informed, and sustainable future. Serving textile professionals since 1921, AATCC is bringing exciting new initiatives to ITMA.
Individuals who join AATCC during the show receive four extra months added to their new one-year membership. AATCC membership provides access to numerous textile test methods and other standards, testing materials, educational resources, and professional networking in the textile space. Members can join the committees that develop new standards or tune in to the interest groups discussing the latest textile topics and innovations. AATCC Communities is the newest member benefit, offering a space for all members to connect with one another through an integrated social platform.

Visitors can test their color vision accuracy at Hall H4 Stand D316. The Farnsworth Munsell 100 Hue Test is a vital tool used by government and corporate organizations throughout the textile industry to measure an individual's ability to discriminate small color differences. This test is simple to administer and provides instant digital results. The highest score each day takes home a ColorReader tool for portable color measurement on the move! The ColorReader promotion is sponsored by AATCC corporate member Datacolor.

On Friday June 9, the ITMA Textile Colourants and Chemicals Forum will discuss Transforming the World of Textile Colourants Through Green Chemistry. Diana Wyman, AATCC's Executive Vice President is a part of the program committee and has assisted in putting together the wonderful array of speakers, presentations, and topics of discussion. Be sure to stop by to hear more on how the textile industry is moving towards safe and sustainable chemistry.

While attending the show, stop by the special tea reception for AATCC members. On June 11 at 2:30 meet at the Congress Centre. This reception will be a great way to connect with other AATCC members, new and old! Be sure to stop by the AATCC booth to get the ITMA membership special of four free months and join in on the fun. The first 50 visitors receive an exclusive ITMA button.
Learn More

https://www.aatcc.org/aatcc-events/itma2023/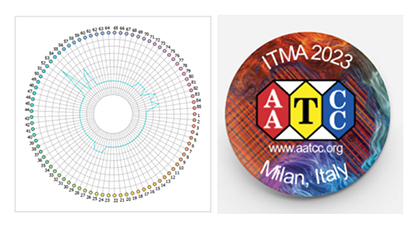 © 2023 AATCC
Related News
More News from American Association of Textile Chemists and Colorists

Latest News