ITMA 2023
2023-04-20
Why ITMA is the greatest show on earth
In the world of textile manufacturing, ITMA is really the 'greatest show on earth.' It's where the progress of textile and clothing technology is measured and benchmarked against previous years, and vital contacts are made between customers and suppliers worldwide. Swiss companies are renowned for their innovative spirit and commitment to the four-yearly exhibition series. Looking ahead to ITMA 2023 in Milan (June 8-14), this interview with Cornelia Buchwalder, Secretary General of the Swiss Textile Machinery Association explores the real importance of ITMA as a driver of global textile progress.
Analysis by Cornelia Buchwalder, Secretary General of the Swiss Textile Machinery Association
How important is ITMA 2023 for Swiss Textile Machinery member companies?

Cornelia Buchwalder: Not only for us, but for the visitors from the textile manufacturers, ITMA is vitally important, and a major element in the overall development of the industry worldwide.

The 2023 ITMA is fully booked – clear evidence of its continued appeal as the essential marked place for textile machinery. And its importance is underlined by the participation of more than 50 Swiss exhibitors, most of which are members of the Textile Machinery Association. We will be there in Milan, because we know it's the perfect opportunity to show the world what we offer.

Our Association is a major player in textiles. Established in 1940, it now includes 44 member firms, covering the entire textile value chain. Together, these companies have a total of more than 4,000 years of experience, and an unrivalled international reputation for innovation and quality.

Is ITMA really still a focus for the timing of major innovations in technology?

Cornelia Buchwalder: That is certainly the way the ITMA shows have been viewed in the past. Today it's not the only forum for innovation, which is now more of an ongoing process of collaborative effort between machinery companies and their customers. But ITMA remains a four-yearly milestone in technology, where industry visitors rightly expect to see the best and latest ideas from their suppliers. It's increasingly interesting to evaluate how innovations fit into the wider textile value chain, rather than in a company's own specialized branch of the sector.

Obviously, Swiss Textile Machinery companies will want to use this big event to grow their business and expand sales. Are there other motivations for exhibiting at ITMA 2023?

Cornelia Buchwalder: Yes, that's a primary goal for sure. But we don't underestimate the superb networking opportunities it will bring, fostering shared knowledge and experience with both new and existing partners. Significantly, 2023 will be one of the first really major shows for textiles since the coronavirus pandemic put a stop to personal business interactions. It will be great to enjoy face-to-face meetings again this time. We have a lot to talk about!

For our member firms, it's also a chance to focus on how our products, components and services stack up against competitors' offerings, and gauge the reaction from visitors to our booths. It's good to be able to review and compare our own performance in the spotlight of a massive event like ITMA.

What actual innovations and novelties can we expect in Milan?

Cornelia Buchwalder: We will certainly be ready with a strong display of new Swiss developments, as each company presents its latest innovations. For the specifics, individual members companies will be delighted to provide more detailed information – and maybe even some surprises at the show itself.

What would the Swiss Textile Machinery Association aim to achieve at ITMA?
Cornelia Buchwalder: One of our key goals would be to assure visitors that Switzerland is seen in the vanguard of progress in both sophisticated digital solutions and sustainable solutions. Sustainability has a double meaning for us: the ability to offer continuing benefits and enduring performance for our customers, while embracing every aspect of sustainable production to the highest standards of environmental responsibility.

We achieve these standards through significant investments in R&D – a major slice of revenue for most of our members – and by close cooperation with experts in the leading products, components and services. 'Innovation is in our DNA' is more than a slogan: we have the history of achievements to prove it.

What is it that makes Swiss machinery so special?

Cornelia Buchwalder: Of course, there are respected textile machinery suppliers in other countries too! Switzerland though has the reputation, earned over many decades, of the highest levels of excellence and precision in all aspects of manufacturing and engineering. Textile machines, components and services rightly share that status. Our in-house production systems are cutting-edge and sustainable. Customers say it for us: with Swiss companies, quality is guaranteed.
Why should textile industry visitors go to ITMA 2023?
Cornelia Buchwalder: Couldn't they just stay at home and get the info they need online? Well, maybe, but there is nothing quite like seeing a new machine or an exciting innovation up and running in the bustling halls of a major show. Live demonstrations at timed intervals are often crowded with eager visitors – for a good reason. It's the way to be inspired, and find solutions that could literally change your business outlook, and actually grow your profits.
ITMA 2023 will also give visitors a chance to speak personally with the experts from machinery companies, to ask those 'difficult' questions and get the full story behind a vital innovation. How will it fit into an existing production environment, will it help to reduce waste, will it help to improve profitability…?
Then there are the big questions, about investment costs and funding. Big deals are started at ITMA, and contracts are often finalized – admittedly sometimes as a publicity boost. Visitors can also compare offers from different providers. Obviously, we hope the choice is for the Swiss option!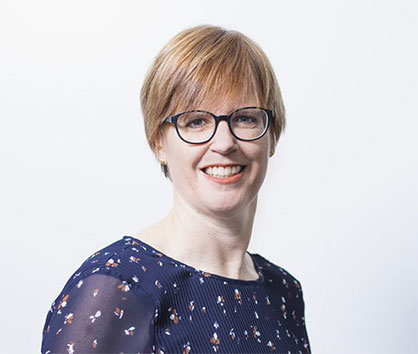 Cornelia Buchwalder © 2023 Swiss Textile Machinery
Ultimately, ITMA is a celebration of the achievements of the global textile community, and an opportunity to foster the kind of innovative developments that future generations will be proud of.

Related News
More News from Swissmem Textile Machinery Division

Latest News