ITMA 2015
2015-11-06
Retech will show their complete product range in operation at ITMA
Retech, a well-known manufacturer of high quality components for man-made fiber processing, presents a significant range of solutions for thermal treatment and drawing in the field of synthetic yarn production at ITMA 2015 in Milano. Retechhas achieved a leading position in the market for heated godet rolls which are performing in spin-draw plants all around the world. The initial equipping of new machines in close cooperation with the leading machinery manufacturers is the driver for innovation.
Cooperation with important yarn producers, who develop new polymers and processes, gained importance in recent years.
In Milano Retech will show their complete product range in operation for the first time and not only as static components in a nice show case. Customers will be able to see how the blue thread moves and how it is running on the Retech high end products such as heated godets, yarn tension sensors and air bearing separator rolls just to mention a few:
The following new components will be presented at ITMA 2015 in Milano:
Heated godet rolls
For many years this has been the leading product range from Retech. The latest advances will be shown.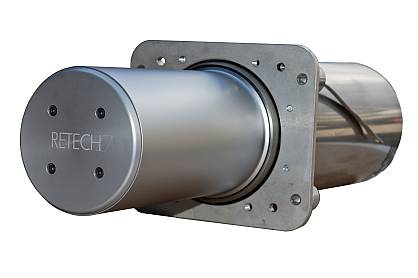 Pic:Heated godet with 4 Heating Zones and Rotating Temperature Sensor
Retech's attention turned always to optimize heating and motor capacity in order to save energy. The whole power of new innovation leads to fulfill this credo and therefore to the optimized godet.  To define the right and best suited godet a close collaboration between customer and equipment designer is very important. There is no such thing as an "off the shelf" godet. Based on the permanent synchronous magnet motor (PSM) concept there are three main sizes of motors, available in different performance categories. For each of these motors different roll diameters and various lengths are available. After defining the dimensions and performance of a heated godet, the parameters of heating type (mostly induction heated), single zone / multi zone with stationary or rotating temperature sensor, can be defined. Having decided all the specific customer requirements, a special godet based on a modular standard concept will be precisely manufactured. Process data for the material in question including yarn count, number of threads and wraps, process speed and temperatures, draw forces and other yarn properties determine the parameters. Together with the customer, RETECH engineers will elaborate all options required for the specific process. Whether process requirements call for one-zone or multi-zone heating, or specifically high drawing speeds is not a problem, RETECH godets are capable of up to 6000 m/min with temperatures up to 400 °C.  All godets are based on the same modular concept and are available as well with their own bearing and housings for use in very low speed application or centrally driven with a belt drive for multiple godet rolls.
In any case RETECH offers tailor made solutions to any end-user and machine producer of godet rolls, adequate both for technical and economical requirements, combining highest flexibility and highest quality
Air Bearing Separator Rolls ( ABSR)
Separator Rolls are an important addition to Retech component family:
RETECH is focusing on a larger range of Air Bearing Separator Rolls (ABSR)
Numerous ABSR's are in operation in polymer plants all around the world. Using a very advanced technology proprietary to RETECH, it has been possible to reduce the air consumption on our latest version ABSR by one third. This economical solution is furthermore paired with lower wear and tear of this component.
ABSR now available in new dimensions
New dimensions such as Ø 36 x 110 mm and Ø 58 x 125 mm used mainly as guiding rolls have been added to the previous product range.
Online Monitoring System
RETECH can improve your process and product quality by means of their on-line tension control WinOLT. RETECH has further developed the well-known Win OLT which is a yarn tension measuring system that continuously monitors yarn tension, records yarn breaks, calculates downtimes and provides machine efficiency and quality data. It has been specially optimised for DTY processes.
 

RETECH supplies the tension sensor either as a stand-alone standard component with new 4 standard measuring ranges, or as a complete QA system, depending on the requirements. It is called the Win-OLT system.
A special development focus was the enlargement of the data evaluation, called Win –Eval, which offers a huge information base for plant managers to optimise the efficiency of their machines. Statistics per shift, day or over a defined time period can be evaluated.
Quality control in many stages of the textile process can be covered by Win-OLT at the same time setting the industry standard for high quality and optimised production.
Roll Temperature Surface Measurement Device
RETECH is proud to present its newest development in the field of temperature measuring.
A service tool, developed for our engineers, became in reality a customer demand. This device is now available and will be shown for the first time at ITMA in Milano.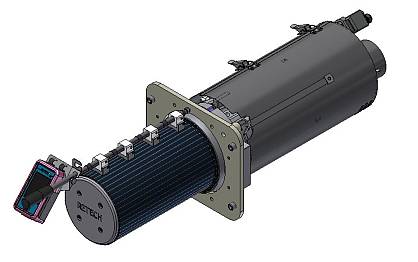 Pic:Roll Temperature Surface Measurement Device

How precise is the roll surface temperature? How accurate from godet to godet? These questions can be answered and measured by using this new device from RETECH.
Up to 4 measuring points can register the exact roll surface temperature within 1 to 2 seconds. The measured values for each godet and machine are stored and indicated in the hand held operating panel. They can be transferred to the customer's supervision software via USB connection.
It is a convenient small maintenance tool, which offers continuous and repeatable information to assure final yarn quality and not only for Retech godets.
New Temperature Transmitter
A special highlight is our newly developed temperature transmitter UTR-4A. As there is a story behind this, it is worth to inform you about it: Normally Switzerland is known for its chocolate. Retech also likes to spoil customers with their in-house chocolate but there are also famous biscuits. One of the most famous and traditional biscuit of Switzerland, the Willisauer Ringli, is celebrating its 150 anniversary. Rumor has it, that they inspired some of the engineers at RETECH during the time they were designing the new temperature transmitter.
RETECH supplies not only the heated godet but also the required temperature transmitter for 1 to 6 individual heating zones. This can be combined with UCR controller or USC signal converters. The new innovative temperature transmitter, which replaces the proven and successful UTR-4, has been miniaturised as far as possible and is completely sealed (no connections in the hot part of the roll). It has many applications in the field of textiles and elsewhere. It goes without saying that RETECH is also offering this feature for upgrading and modifications of existing heated godets.
RETECH´s components and installations are important links within the textile added value chain. As a market leader, RETECH possesses extensive Know-How in design and construction of heating and drawing elements in order to provide high technology installations with excellent customer service. The development of innovative, efficient and high quality draw machines adapted to the customer's specification, as well as their conversion and upgrading are additional and vital topics. Integration of new technologies has become essential in order to achieve sustainability in many respects including environmental protection and energy usage in combination with maintenance cost reduction and user-friendly operation.
Whatever the customers' needs, whether process components for technical yarn, for sports wear as well as for automotive or tire cord, these are all part of the creativity of the Swiss manufacturer RETECH in each specific field.
At RETECH the entire effort is always focused on delivering customer benefits and keeping a close contact to the clients. The mutual success is primarily based on the company knowledge and customer focus - at all times and in every location with added value exclusively from RETECH Switzerland.
Related News
More News from Retech Aktiengesellschaft
Latest News