ITMA 2015
2015-07-16
CEMATEX publishes the 8th issue of ITMA Sustainability Bulletin
The latest edition of the ITMA Sustainability Bulletin – the quarterly report on environmental performance from ITMA, the world's leading exhibition for textile manufacturing technology, is now available for download. With less than 6 months to go until ITMA 2015, and early bird registration open, excitement is mounting about the sustainability themed event of the year.
The need to be more sustainable is a topic that affects the whole of the textile industry and with all businesses striving to be more environmentally friendly, knowledge sharing is, to an extent, triumphing over competitiveness in the market. Thankfully, ITMA 2015 will provide the most appropriate arena for discussions to take place on how we can make significant progress.
The ITMA Sustainability Bulletin is a 10-pager with a couple of news about what happened in the terms of sustainability during the last weeks.
It contains news about the Fair Trade standard for textile manufacturing, the Euratex-led Energy Made-to-Measure campaign and The US Environmental Protection Agency (EPA) is, for the first time, to use its Toxic Substances Control Act (TSCA) authority to collect health-and-safety information on nanoscale chemicals.
Mr. Charles Beauduin, President CEMATEX and also Symatex, gives an overview about "how to create a sustainable future for the textile industry?" from a Belgium viewpoint.
Another topics are "ECHA Demands Information on 'In Situ' Biocides" and Bangladesh to create textile oversight body.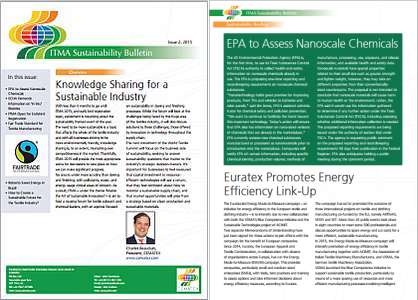 To read the ITMA Sustainability Bulletin, please click here:
http://www.itma.com/docs/default-source/news/itma_sustainability_bulletin_issue_2_2015_en.pdf?sfvrsn=2
Related News
More News from CEMATEX

Latest News