ITM 2022
2022-07-07
Asteks exhibited its latest innovations at ITM 2022

(c) 2022 - Asteks
Asteks, exhibiting all apron, cots and grinding machines demanded by yarn manufacturers at ITM 2022, once again proved that it is an indispensable partner for textile manufacturers with its advanced solutions, customer-oriented service approach and innovative vision.
Asteks, a specialist in the advanced apron, cot and cot grinding machines, was a frequent visitor destination with its rich product portfolio at the International Textile Machinery Exhibition ITM 2022, held at TÜYAP, Istanbul on June 14-18. Asteks has managed to attract attention with its advanced grinding machines and smart unmanned transport vehicle in addition to apron and cot types that respond to the production demands of different yarn types. Asteks officials held important meetings with visitors from domestic and foreign textile markets throughout the exhibition and emphasized the corporate power and trust offered by the company with more than 50 years of experience.
Asteks Marketing and Sales Manager Sabri Ilknur made evaluations about ITM 2022, saying that the advanced solutions attracted great attention from the visitors and they held successful meetings during the exhibition. Ilknur stated that the exhibition was completed with very satisfactory results and disclosed; "ITM is not only an exhibition of importance for our country and region but also globally. We had a serious preparation process to attend the first significant meeting of the textile industry after the pandemic. We completed an exhibition where we met with our current and potential customers from domestic and foreign markets and made new agreements. Considering that we reach 75% of the Turkish market and export to more than 30 countries, ITM 2022 will show its effects in the coming period as an exhibition in which we were successful and left pleased."
(c) 2022 Asteks - Marketing and Sales Manager Sabri Ilknur
Ilknur explained that they met with professionals from the Turkish textile industry, as well as visitors from developing textile markets and countries in the region such as Uzbekistan, Bangladesh, Pakistan, Egypt, Iran and Greece. He remarked that 64,500 people from 65 countries visited ITM 2022, stated that as Asteks, they had the opportunity to establish new connections and the chance to closely show their competitive grinding solutions to a lot of global visitors.
"There is a sustainability-oriented transformation in the textile industry"
Asteks shared numerous innovations in its main product group, apron and cots, with the visitors at ITM 2022. Carbon Reinforced Apron CTA, which increases the working comfort, especially in the yarn production of polyester and blended fibre with an increasing usage area, was among the most remarkable products. In addition, RC-751 and RC-851 series yarn cots showed that they are very competitive and durable with their superior performance. The superior OPS/Performance-SS series aprons developed in parallel with the usage needs also gained the appreciation of textile professionals and decision-makers, in addition to Asteks' perforated aprons used in compact yarn production.
Sabri Ilknur stated that significant transformations were experienced in the textile industry in terms of fashion and cost, and said that especially the demand for recycled, synthetic and cellulosic fibres have been constantly increasing. Expressing that "Yarn manufacturers are also focusing on this direction because of the increasing demand," Ilknur continued his words as follows; "The textile industry is undergoing a transformation that is making itself more sustainable. The protection and optimum use of natural resources and the recommissioning of recycled fibres into production are both shaping the vision of the industry. Investment preferences of yarn manufacturers are also changing and they are looking for suitable solutions for this reason. As Asteks, we have all kinds of aprons and cots required for the spinning process and we can quickly supply these price-performance ratio competitive products. We provide added value to yarn manufacturers with our ideal solutions even for the toughest and most polluted working conditions."
401-SF&M cot grinding machine proved its success
Asteks, with 100% Turkish capital and its own R&D processes and engineers, is in a very assertive position in terms of innovations. The 401-SF&M cot grinding machine, developed by the company's Turkish engineers, has created serious business potential with its simple concept in line with the market demands, ease of use, high automation capability and investment advantage.
Sabri Ilknur said that the 401-SF&M was developed in line with the demands of the textile industry based on the studies in the field for many years and shared the following details; "In effect, there are two separate machines within a single machine concept. The grinding process of draw frames and combed cotton cots can be performed simultaneously with its independent working feature on the one side while the grinding process of yarn and roving frames is carried out fully automatically on the other side. The machine is equipped with high automation features as well as the ability to perform two different cot grinding jobs. Pouring the cots into the feeding unit is sufficient for feeding in 401-SF&M, while in other machines, cot feeding is done by manually arranging them one by one. The working systematic also includes significant innovations. The outer diameters of the cots are measured with the laser measurement system, and the ones outside the specified size are separated. The grinding efficiency of the machine is not affected at all since this process is performed before grinding. Then the machine automatically grinds the cots according to the data. The need for the operator to wait for the machine is eliminated during the process, allowing them to complete different jobs, which means added value for operational efficiency. Grinding of the draw frame cots takes place on the other side of the machine with the narrow grinding system simultaneously with the whole process."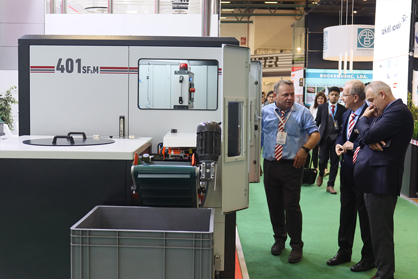 (c) 2022 Asteks
The creators of 401-SF&M were honoured in a special ceremony

A special ceremony was held at the exhibition for the developer of the 401-SF&M cot grinding machine, which was exhibited by Asteks at ITM 2022 and managed to be among the best-selling prestigious products in the market in the past period. Asteks Achievement Plaque was presented to Asteks Technical Manager Selahattin Budak, the head of the technical team, for his valuable contributions to the development of the solution, which is a product of Asteks' R&D team consisting of engineers and technicians. Speaking at the ceremony, Sabri Ilknur said; "Mr Selahattin, with his strong sectoral background and technical knowledge, first dreamed of this machine and then turned it into reality with our team. I congratulate our entire team on behalf of him. Asteks, as a company that is open to creativity and development, also values rewarding the achievements."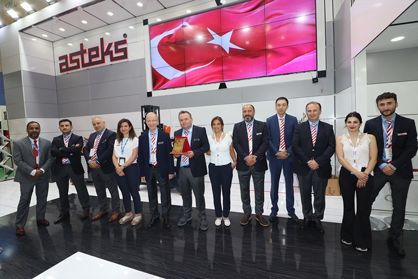 (c) 2022 Asteks - Team at ITM 2022
Related News
More News from TEXDATA International

Latest News