Digital Printing
2023-04-06
EFI Reggiani hosts ecoTERRA live show

© 2023 EFI Reggiani
From 14 to 17 March, textile and apparel manufacturers gathered at EFI Reggiani's Customer Experience Center to witness first-hand the latest market-leading innovation providing users with promising new opportunities: EFI Reggiani ecoTERRA, the all-in-one solution for pigment printing that requires no ancillary equipment for pre- and post-treatment.
The event, which drew more than 50 attendees from over 15 different countries, featured informative sessions with product experts. Attendees learned about the applications and business models enabled by EFI Reggiani ecoTERRA and its sustainability and time-to-market benefits, as well as the opportunity to streamline the process already from the pre-printing stage thanks to Inèdit neoCatalog.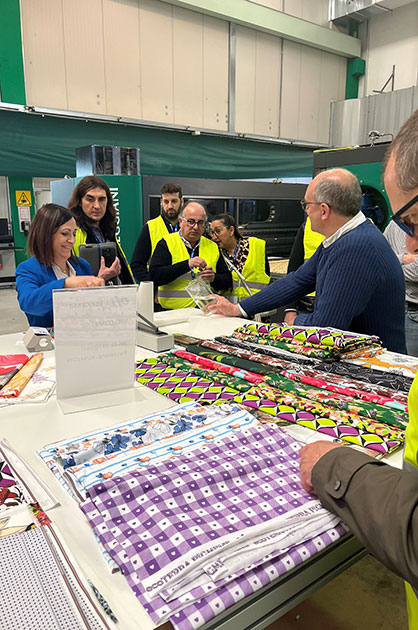 © 2023 EFI Reggiani
Guests witnessed live demonstrations of the latest advanced EFI Reggiani ecoTERRA pigment solution. EFI Reggiani ecoTERRA is a game-changing solution that brings the entire printing process inside the printer itself.

"Improving sustainability in the textile industry is one of the key drivers for our development roadmap," says Antonino Tricomi, EFI Reggiani Vice President of Sales & New Business Development. "EFI Reggiani ecoTERRA in particular has been conceived to respond to the demand for a more sustainable printing process, reducing chemicals, energy and water consumption, and at the same time ensuring a fast time-to-market to provide a solution for on-demand manufacturing".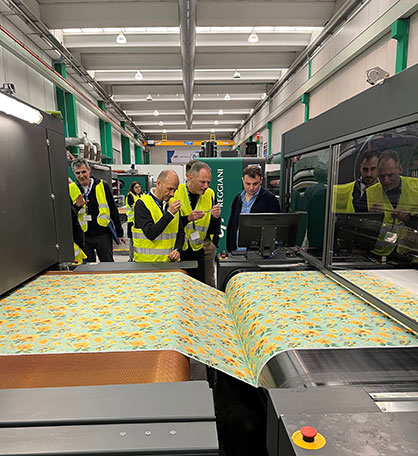 © 2023 EFI Reggiani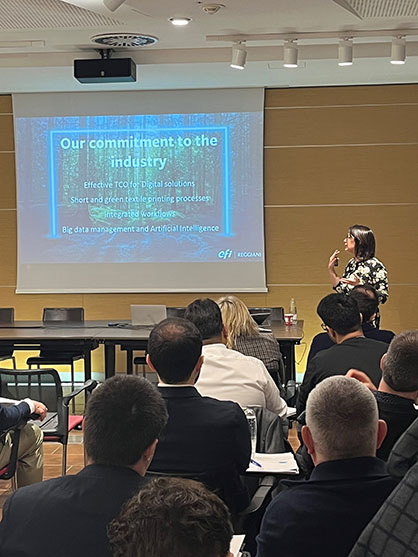 © 2023 EFI Reggiani
EFI Reggiani ecoTERRA is a patent-pending technology that gives customers a distinct competitive advantage, dramatically cutting energy and water consumption in the overall process for a more sustainable direct-to-fabric printing experience. Users will benefit from ecoTERRA's ability to deliver excellent wet and dry fastness, remarkable sharpness in detail and extraordinarily high durability while also yielding longer printhead life with reduced maintenance costs. The new EFI Reggiani ecoTERRA ink range features 7 colours – cyan, magenta, yellow, black, blue, red and green – for an expanded colour gamut. An enhanced polymerisation and finishing unit for the EFI Reggiani ecoTERRA also gives the fabric a softer hand feel, meeting global regulations requirements and the highest industry standards.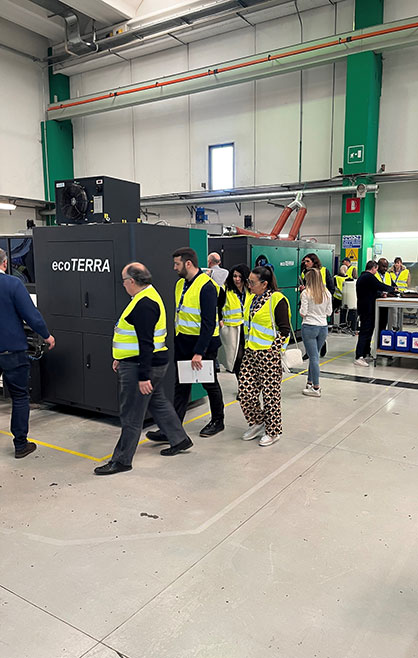 © 2023 EFI Reggiani
Always committed to delivering to the market new cutting-edge technologies, EFI Reggiani has world-class products offering boosted uptime and reliability, high performance throughput, and remarkable printing uniformity and accuracy – all while helping customers increase the sustainability of their textile manufacturing activities. For more information about EFI Reggiani products, visit https://www.efi.com/reggiani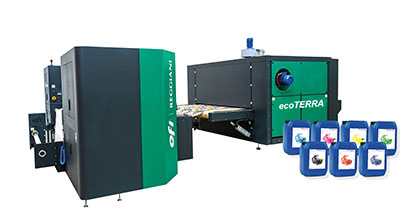 © 2023 EFI Reggiani
Related News
Latest News Digital Printing
More News from Reggiani Macchine S.p.A.

Latest News