Digital Printing
2022-11-24
Mimaki Eurasia to be at FESPA Eurasia 2022 with groundbreaking innovations in printing

© 2022 Mimaki
Mimaki Eurasia, preparing to host printing professionals at a new FESPA Eurasia exhibition, will focus on solutions and applications that will inspire the industry at its booth. Visitors will discover the new possibilities of printing at the Mimaki Eurasia booth.
Mimaki, the leading brand of wide-format inkjet printers and cutting plotters, will exhibit its new and most demanded solutions in the market by participating in FESPA Eurasia on December 1-4. Mimaki Eurasia booth, consisting of three islands in the Hall 8 of the IFM exhibition area, with a total size of 648 m2, will both show technology to the visitors and provide visual pleasure with the exhibition area where user products are located. Mimaki Eurasia will focus on inspiring new printing applications and give a strong unity message to all visitors and printing professionals, especially its users.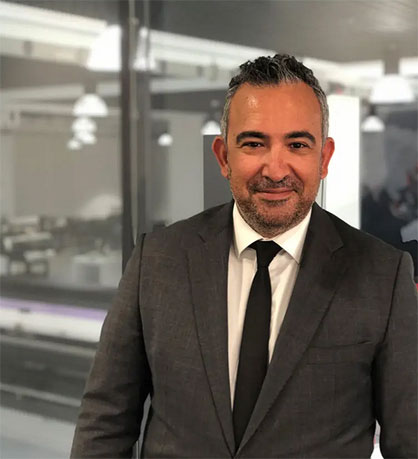 Hüseyin Sarerler © 2022 Mimaki
Mimaki Eurasia's booth, consisting of three islands, will exhibit the latest innovations and the most demanded products in the market in 3D printing technology and cutting plotters, as well as printers in the fields of Sign Graphics (SG), Industrial Products (IP), Textile and Apparel (TA). Offering comprehensive and end-to-end solutions to the printing industry, Mimaki will showcase the latest in digital printing. Surprises await visitors in the cafe section, which has become an integral part of the Mimaki booth. Expanding further this year, one section of the cafe will present a sitting set and clothes created with textile machines and the other section will present numerous samples created with UV printing directly on the object and sublimation transfer printing on rigid substrates.

Mimaki Eurasia Area Sales Manager Hüseyin ?arerler, saying that they have prepared extensively for FESPA Eurasia 2022 as always, remarked that their booth concept can be summarized as 'inspiring' and 'exploring innovations'. Reminding that they achieved a considerable development and demand growth in the market in 2022, ?arerler continued his words as follows: "The Turkish printing industry has potential beyond expectations. Printing professionals want to have the most suitable and accurate solutions to gain new opportunities. As the biggest solution partner of the sector members who want to gain an advantage in this respect, Mimaki Eurasia strengthens its power and position. We invite the representatives of companies that want to be more competitive in the market in terms of investment, production and sales for the next year and beyond, to our booth at FESPA Eurasia 2022."

Hüseyin Sarerler
Mimaki Eurasia booth will turn into an innovation and trend area

Mimaki Eurasia, getting ready for FESPA Eurasia 2022 with the most comprehensive booth in 2022, has designed a mini Mimaki eco-system for its visitors. All Mimaki technologies, from UV-LED printing to eco-solvent solutions, from direct-to-fabric printing to sublimation transfer printing, from industrial solutions to 3D printing products and plotters that provide new possibilities for cutting, will show their performance throughout the exhibition. The exhibition area, consisting of Mimaki user products which was prepared for the first time last year and received great acclaim, is expanding its scope this year. The products of Mimaki users from different parts of the world in addition to Turkish users will be featured in the exhibition, achieving a unique global experience.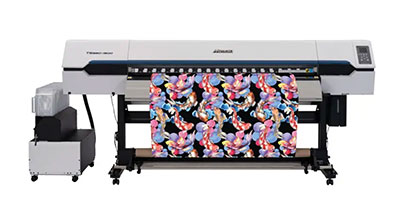 Mimaki´s TS330-160 Sublimation transfer printer © 2022 Mimaki
FESPA Eurasia visitors will have the chance to see the JV330-160 eco-solvent printer and the TS330-1600 sublimation transfer printer from the new 330 Series launched this year at the Mimaki booth. Outperforming their competitors in productivity, print quality and workflow management, the models are equipped with brand-new features. Thanks to the 'Deep Color Natural' print profile which is available in both models, high colour accuracy and quality are achieved in indoor and outdoor prints.

Mimaki technologies that facilitate and accelerate the printing and cutting processes will also be among the prominent solutions of the booth. Visitors will have the opportunity to see how the CG-AR Series cutting plotters, when used with the JV100-160 eco-solvent printer and the UJV100-160 UV-LED printer, provide an efficient print/cut flow thanks to the Mimaki ID Cut function. The CG-130AR and CG-60AR cutting plotters to be exhibited at the exhibition increase the production capacity of the users with their standard and optional working features.

Unlimited application opportunities thanks to Mimaki's advanced printing solutions

Mimaki Eurasia, which has many different solutions for industrial advertising, will exhibit the most demanded models in the market at its booth. One of the most attractive solutions for indoor and outdoor printing applications, the JFX600-2513 large format UV-LED flatbed printer increases its production speed by 300% compared to previous models with the increased number of print heads and strengthened hardware. Developed to meet various demands of print service providers, the model offers the opportunity to print on a wide variety of materials up to 6 cm thick, such as resin, wood, glass and metal used in signage and decoration works. JFX600-2513, with high productivity and a wide colour gamut, is able to work with different ink sets and successfully performs 2.5D prints.

Among the other solutions to be exhibited at the Mimaki booth are; JV100-160 cost-effective eco-solvent printer, UJV100-160 fully equipped roll-to-roll UV-LED printer, CJV150-160 low cost, high speed and performance integrated printer/cutter, UCJV300-75 UV-LED print/cut printer for the sign and graphics industries, high-performance, small-format, direct-to-object UV-LED printers UJF-3042MkII e and UJF-6042MkII e.

There is also a special section at the Mimaki booth for textile applications. The following Mimaki solutions will be exhibited in this section, which will include living room decoration and fashion applications; TS55-1800 sublimation transfer printer, digital belt-fed direct-to-stretchy fabric printer Tx300P-1800B, TS100-1600, a cost-effective fully-equipped sublimation transfer printer and the TS330-1600 sublimation transfer printer, one of the newest solutions in the portfolio.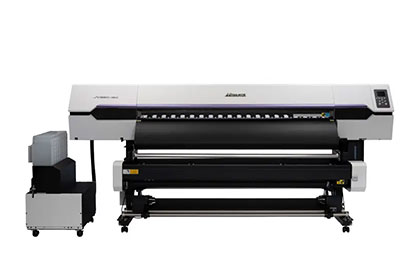 Mimaki´s JV330-160 Eco-solvent Printer © 2022 Mimaki
For the 3D printing segment, where creativity becomes reality, Mimaki will welcome its visitors with its newest solution, 3DUJ-2207. The 3D printer 3DUJ-2207, which can be used comfortably in offices thanks to its compact design, opens the door to new possibilities in the production of prototypes, models and figures with its 10 million colour printing power. In addition, the 3DCS-322 finishing unit, which allows the product to be removed from the support material after 3D printing, will be a solution that will attract the attention of the visitors.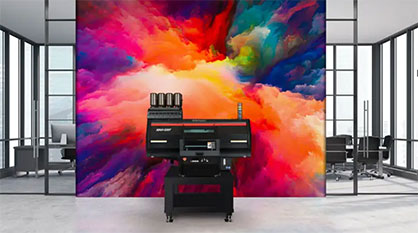 Mimaki´s lates 3D printing system, the Mimaki 3DUJ-2207 © 2022 Mimaki
FESPA Eurasia 2022 visitors will be able to visit Mimaki Eurasia at booths A20 / B20 and C20 in Hall 8 and receive detailed information about solutions and applications from the Mimaki technical team.

You can find more information about Mimaki's advanced printing technologies on its official website; http://www.mimaki.com.tr/ 
Related News
More News from Mimaki Europe B.V.

Latest News