Digital Printing
2022-06-30
Kardem Tekstil manufactures with Mimaki TS55-1800 for fashion giants

Kardem Tekstil factory (c) 2022 Kardem Tekstil
Kardem Tekstil, producing garments for world-famous brands, achieves its digital printing advantages with Mimaki's price/performance-oriented TS55-1800 sublimation transfer printer. TS55-1800, making an (r)evolution in textile production, turns into an ideal solution for Kardem Tekstil thanks to its high performance.
Kardem Tekstil, one of the most important suppliers of global fashion and clothing brands, increases its brand value with its successful market studies. The company, which started its activities in Istanbul with 30 personnel in 1990, has become a strong garment manufacturer with export-oriented studies and new investments. It has been producing through workshops for many years and opened its first factory in Smederova, Serbia in 2016. Kardem Tekstil opened Kesan Factory in Edirne, thus turning into a fully integrated garment manufacturer in 2017. Kardem Tekstil, serving global brands such as Abercrombie & Fitch, Bershka, Inditex Group, H&M and Ralph Lauren, is considered one of the pioneers of the Turkish clothing industry with its vision and increasing power in the market.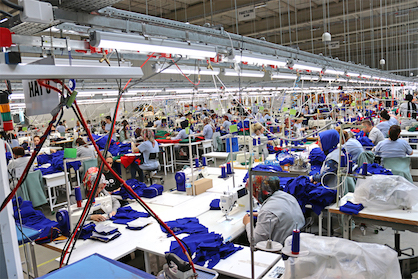 Production at Kardem Tekstil (c) 2022 Kardem Tekstil
Kardem Tekstil, with a monthly production capacity of 2 million pieces of clothing, makes a significant contribution to the Turkish economy by exporting 98% of its production. Kesan Factory, considered the production base of the company, has all the departments such as cutting, sewing, embroidery, printing, quality/control and shipment with 600 employees, mostly women. Factory Manager Rasit Akgör has said that the fabric bolts entering the facility come out as the final ready-to-wear garments. Akgör noted that they attach great importance to sustainability as well as quality production and said; "Our factory has reached a self-sufficient energy power by switching to 100% solar energy system in 2020. Being a 100% eco-friendly factory represents an important step. We continue to take the necessary steps for 'clean production' and to become a sustainable vision partner for the major players of the fashion and clothing industry."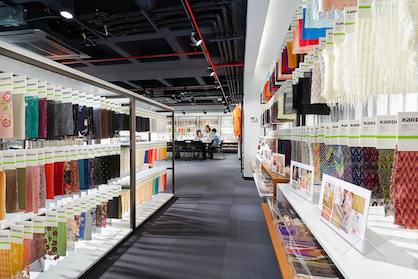 Kardem Tekstil fabrics (c) 2022 Kardem Tekstil
Changing consumer demands necessitate digital printing

Rasit Akgör, expressing that there has been a serious transformation in both consumer preferences and production methods in the textile and apparel industry, summarized how they decided to invest in digital printing; "High volume production and the standard limited design/models it brought were the points of the question for a profitable business in the past. However, today, the volume of orders is lower, delivery times are shorter, and more diverse products are demanded than ever before. It is not possible to produce them through only traditional methods. Although the traditional screen-printing method continues, it is no longer sufficient for these increasingly special demands of customers. The efficiency of digital printing at fast, high quality and low/medium volumes became a new solution for us. We have seen that Mimaki is the best in the market in this field after our research. We already have printers of numerous Japanese brands that we use in production. We have great confidence in Japanese technology and engineering. Therefore, we focused on which Mimaki model we should choose in the second stage."

Akgör explained that the TS55-1800 sublimation transfer printer is the most ideal solution for them, both with its print quality and efficiency and with its 1800 mm printing width, mentioning that the installation was carried out quickly by the Mimaki dealer in the first days of 2022. Akgör disclosed; "Production of planned orders is currently underway, so we have not used our new printer for final products yet. However, we started the trial prints on the TS55-1800 for the new season products after the installation. We create applications for the final products in these printers together with our design office and send these samples to the brands we work with. Frankly, I can say that this process went well, as expected. We have not received any negative feedback from our customers regarding our prints. We plan to use the TS55-1800 in the actual production of new orders from the second half of 2022 without interruption depending on the orders from our customers."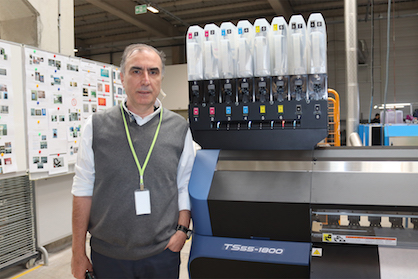 Rasit Akgor (c) 2022 Kardem Tekstil
Akgör stated that various products printed with the TS55-1800, such as dresses, tights, coats, sweatshirts and tulle, will meet with the fashion and retail market in the coming period.

"Mimaki TS55-1800 was the right investment"
Rasit Akgör expressed that the share of digital printing in their apparel production will initially be 5%, but this share will increase rapidly, and stated that digitally printed collections mean more options and less cost. Akgör said; "It is almost impossible to obtain a 50-colour design in a collection with screen printing, and the high cost and process that will result increase the difficulties. There is also the cost of waste resulting from the high amount of test printing to reach the correct colour value. On the other hand, digital printing offers us new possibilities with its short, fast and error-free production as well as an almost endless amount of colour options. The cost of digital printing is unbeatable for low-volume or multi-colour jobs. The quality prints we obtained with the TS55-1800 at 1200 dpi resolution and the unit costs we achieved show that we made the right investment."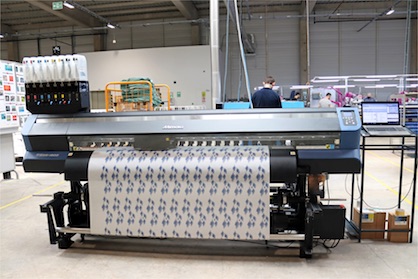 Mimaki TS55 1800 (c) 2022 Mimaki
Akgör, stating that the 1800 mm printing width of the TS55-1800 sublimation transfer printer provides an increase in productivity and a decrease in costs, explained the advantage they have achieved as follows; "The processes come to us with a width of 180 cm and we used to be able to use 160 cm for standard printers in the past, meaning a waste 20 cm of fabric at the beginning. This loss in the fabric edges has ended with the TS55-1800. In addition, the 180 cm width has increased our productivity as it allows us to print more pieces at once. This advantage will come to the fore even more considering the workload that will increase in the coming period."

Akgör said that they were impressed by the strong performance of the TS55-1800 and underlined that this sublimation printer can work 24/7 with its strong structure. Akgör continued his words as follows; "Uninterrupted and unattended printing process saves us both time and money. Standard rolls need to be changed daily. It is necessary to constantly assign a staff for this. Yet, we can work without interruption for a longer period of time with a larger roll. This is where Mimaki Mini Jumbo Roll Unit came in. Thanks to this feeding unit, we have gained uninterrupted and unattended printing power for a longer period of time. TS55-1800 continues and completes its work even after the working hours are over and the staff leaves for home. We will need larger ink bottles in the next step. All our equipment will be ready for the printer to work non-stop with that."

Mimaki original inks comfortably meet expectations
Rasit Akgör explained that they used Mimaki's original sublimation inks for printing and stated that they were very satisfied with the printing results. Akgör disclosed; "Ink is as important as the printer in printing on transfer paper. We have a very good printer and equally good inks. First of all, the saturation of the ink and the transition of the colours to the transfer paper and to the polyester fabric after the calendering process is quite successful. There is no distortion or fading in colours. We can achieve the glossy or matte colours we desire no matter how difficult it is, by adjusting the number of passes in printing. In addition, we do not experience cracking, shedding or similar problems after printing. The friction, perspiration and washing fastness tests we perform for use comfortably meet the success criteria we desire.
Akgör, emphasizing that it became more important that the inks of TS55-1800 have the ECO PASSPORT by OEKO-TEX certificate because they are export-oriented, said that all documents showing that their products are sensitive to the environment and human health are presented to customers.

Saying; "As Kardem Tekstil, we do not manage quality, we produce quality from the first step," Akgör added that in this process, the TS55-1800 increased both their capacity and print quality, so they placed an order to purchase another one of the same printer.

Related News
More News from Mimaki Europe B.V.

Latest News