Composites
2018-03-12
Kordsa participated in the world's biggest composite technology show

(c) 2018 Kordsa
Following its growth in the field of composites, the global player in the tire and construction reinforcement and composite technologies, Kordsa attended JEC World 2018, the biggest composite technology show of the world. The reinforcement leader shared its expanding product portfolio and new technologies with the visitors.
Kordsa's CEO Ali Çalışkan was one of the jury members to evaluate a total of 30 projects in 10 different categories at JEC Innovation Awards Ceremony, which took place as part of the JEC World 2018 in order to celebrate and honor the outstanding innovations of the industry.
Kordsa participated in JEC World 2018, the world's biggest trade show of composite technologies held in Paris between 6 and 8 March 2018. As a jury member of the JEC Innovation Awards, which awarded sector-leading innovations, Kordsa took part in the project appraisal of 30 projects in 10 different categories where composite materials were used, especially in aviation and automotive industries.

In his speech at the ceremony, CEO Ali Çalışkan emphasized Kordsa's mission to reinforce life and said: "This year, we are the official partner of the ceremony of the JEC Innovation Awards, which evaluates 30 impressive projects. As a member of a brand that embraces open innovation, I believe that every project in the competition, whether it is awarded or not, will be a significant contribution to the industry. On behalf of my company Kordsa, it was an honorable experience for me to be among the members of the jury, evaluating these projects."

"In collaboration with Sabancı University, Kordsa inaugurated the Composite Technology Center of Excellence which is a pioneer and an important example in Turkey with its university-industry business model. With the strength of this center, we continue to introduce our new technologies and expand our product range. We have been participating at JEC World for three consecutive years now."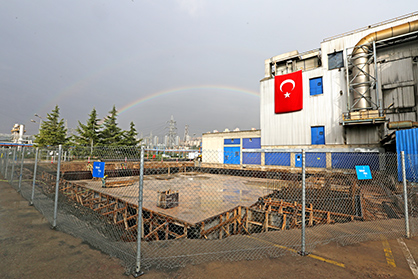 (c) 2018 Kordsa
"Last year we had launched a new resin technology which reduces curing time from 9 minutes to 3 minutes. This new technology brings speed and efficiency to the automotive industry. At this year, we announced that we have commercialized the production of thermoset prepreg which is an important product for automotive and aviation industries. While developing many different resin systems for thermoset prepregs applications, we also work on thermoplastic prepreg. We continue to strengthen our position in the market by developing and producing materials of the future that will replace metal due to their lightness, durability and longevity."

"Today we export our technology to the whole world, we cooperate with brands and realized innovative projects in global market. We strengthen our global reputation as 'The Reinforcer" with the awards we receive. We reshape the industry with game-changer innovations, thanks to our open innovation mindset. By the end of 2017 there were 664 patent applications worldwide, of which 168 were registered. We are globally leading the way in terms of new products, processes and equipment. With the goal to be one of the leading companies in the composites industry, we will continue to reinforce life through further technological innovations and new investments."

Related News
More News from Kordsa Composite Technologies

Latest News