Textiles & Apparel / Garment
2023-06-07
Multifunctional flame retardant fabric with comfort at its core by Carrington Textiles

© 2023 Carrington
Flamestat 250, a flame retardant fabric with antistatic properties developed by global manufacturer Carrington Textiles, is a product which main attribute is its lightweight features while maintaining the company's usual high standard in protection and performance.
At a weight of 250gsm, and with a high cotton content in its composition, Flamestat 250 provides a soft handle for comfort to the wearer, while the polyester in it offers durability and strength.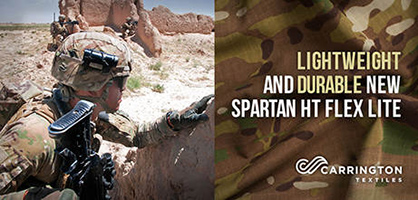 © 2023 Carrington
Regarding the reasons that drove this development, R&D Manager, Kirsty White, explains: "We are able to adapt quickly to market requirements, and as we have been seeing a growing trend for wearer comfort which has transitioned from workwear to flame retardant fabrics, we created Flamestat 250. We also wanted to develop a lighter weight quality to complement our Flamestat 290 without impacting product performance."

Flamestat 250 is the latest addition to the Flamestat family, industrially launderable and guaranteed to last the lifetime of the garment due to its robust construction. With 75% cotton, 24% polyester and 1% antistatic, this fabric's flame retardancy is to the standards EN ISO 11612, EN ISO 14116 index 3 and EN ISO 11611; while its antistatic properties are to the EN 1149-3-5 standard.

Available in a range of colours that include high visibility yellow, black and navy, just to name a few, Flamestat 250 also provides electric arc and chemical splash protection to the EN 61482-1-2 and EN 13034 standards respectively.

Flamestat 250 is a perfect flame retardant fabric with antistatic for workwear jackets, trousers and coveralls in industries that require protection against flash fire and electrostatic discharge like electric vehicle manufacturing, oil and gas as well as engineering.

For more information about Flamestat 250, visit the Carrington Textiles' website: https://www.carrington.co.uk/en/fabric/flamestat-250

Related News
Latest News Textiles & Apparel / Garment
More News from TEXDATA International

Latest News