Textiles & Apparel / Garment
2023-06-01
Freudenberg opens new competence center for apparel interlinings in Italy

(From left) Dr. Frank Heislitz, CEO Freudenberg Performance Materials, Andrea Luzi, Mayor of Sant'Omero, Italy, Dr. Tilman Krauch, CTO Freudenberg Group, Christian Cavaletti, Head of Operations Freudenberg Performance Materials Apparel Italy, Jonathan Oh, Senior Vice President & General Manager Global Business Division Apparel, and Dr. Hannah Koeppen, Vice President & General Manager Freudenberg Performance Materials Apparel Europe. © 2023 Freudenberg
Freudenberg Performance Materials Apparel Europe (Freudenberg) has expanded its facility in Sant´Omero, Italy, into a competence center for finishing and coating apparel interlinings. Customers will benefit from faster and more flexible order processing. In the long term, they will also be able to count on products originating in Europe. The Competence Center was officially opened on May 26, 2023.
The Freudenberg team in Sant´Omero has over 35 years of expertise in the manufacture of high-quality interlinings for menswear: base materials produced at the site are finished and coated to customers' specifications. With the new competence center, the facility will now focus on coating and finishing all nonwoven, woven and weft apparel interlinings in Freudenberg's portfolio. Customers throughout Europe will enjoy the advantages of greater manufacturing flexibility and a more diverse product offering.

"Freudenberg stands for a high level of technical know-how and comprehensive experience in apparel interlinings – from product development through to consultation. With the new competence center in the core Italian market, our customers will benefit from even greater production flexibility and swifter delivery," Dr. Hannah Koeppen, General Manager Freudenberg Performance Materials Apparel Europe, explained.

Freudenberg installed the necessary finishing and coating technology at the new competence center in Italy over the last few months, building a new production hall for this machinery and equipment. Until recently, the bulk of interlinings were coated and finished in Weinheim, Germany. The facility there will now operate as a further competence center specializing in the production of base materials for apparel interlinings.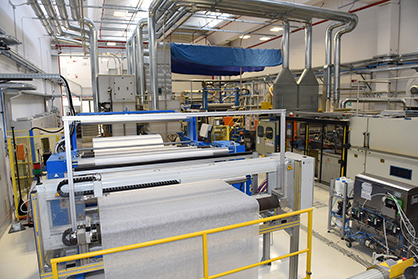 © 2023 Freudenberg
Optimized logistics

In addition to establishing the competence center, Freudenberg has also improved logistics. A new central warehouse in Italy now supplies customers in Southern Europe. It complements the central warehouse in Germany that delivers goods to customers in Northern Europe. As a result, Freudenberg is shortening both delivery routes and delivery times.

© 2023 Freudenberg
Related News
Latest News Textiles & Apparel / Garment
More News from Freudenberg Group

Latest News