Techtextil 2019
2019-05-15
Trevira to reveal numerous new, sustainable innovations at Techtextil 2019

pluumo– a biodegradable (c) 2019 Trevira
Trevira GmbH, the specialist for functional fibres and yarns, will be exhibiting at the Techtextil in Frankfurt in May this year, presenting its products for a wide range of technologies and applications in the area of technical and functional textiles. As at the last Techtextil fairs in 2015 and 2017, Trevira will appear at Techtextil 2019 together with other exhibitors owned by parent company Indorama Ventures. Sustainability will play a key part in Trevira's display and across the entire Indorama joint fair booth, which will reveal a number of new developments.
Trevira GmbH has worked with its customers to develop a variety of new products based on biopolymers, currently a huge topic for sustainable textiles.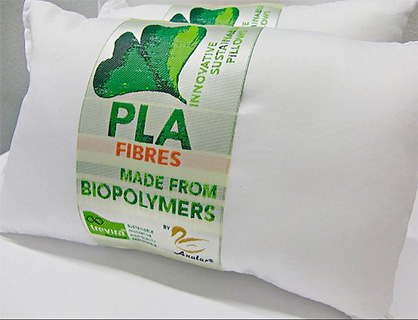 (c) 2019 Trevira
One sustainable product to be viewed at the fair will be a pillow by our Portuguese customer Carlos Manuel Salgado Costa, Ltd. (Analar®). The filling for the pillow consists of 95% biopolymer PLA. PLA fibres from sustainable raw materials offer a sustainable alternative to petroleum-based fibres, and PLA is recyclable and 100% biodegradable with industrial composting. Because of its sustainability, this pillow has qualified for our Sinfineco brand, only awarded to sustainable Trevira products.
AEROPOWDER, a start-up company based in London, has launched a new sustainable product, pluumo– a biodegradable, innovative packaging material that harnesses the power of feathers. Feathers have naturally insulating properties, and to find a fibre that would help realise their design idea, AEROPOWDER turned to Trevira GmbH. We developed special binding fibres – bicomponent fibres consisting of two different biopolymers. This productive collaboration between Trevira and AEROPOWDER has resulted in the creation of a completely biodegradable insulating material.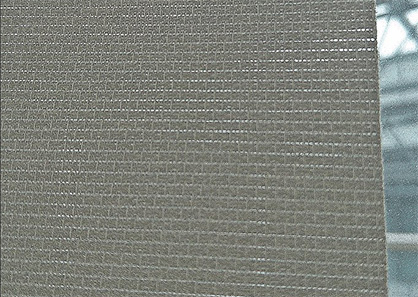 (c) 2019 Trevira
We know that now and in the future, new combinations of primary materials, together with fibres that offer additional functionalities, will become more and more important. To meet this need, we've expanded our capacity to produce bicomponent fibres at our Bobingen site.

Trevira's PLA fibres can also help meet the needs of the food industry. Together with our customers, we have already obtained ISEGA certification for selected products.

Trevira offers not only PLA staple fibres, but also PLA filament yarns. Some examples of products made from this sustainable material are knitted massage gloves by Italian firm MDD di Maddaleno Massimiliano; an interior lining fabric that protects against the sun, by Spanish company Vertisol; and a woven 100% PLA fabric by French firm Chamatex.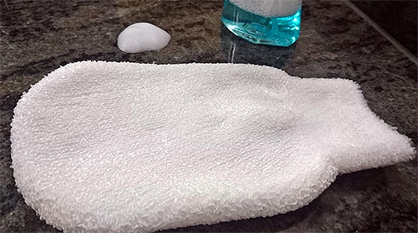 (c) 2019 Trevira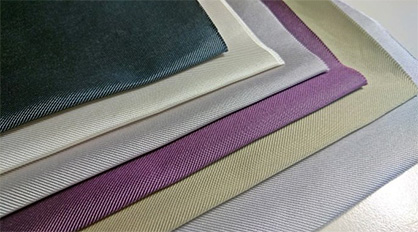 (c) 2019 Trevira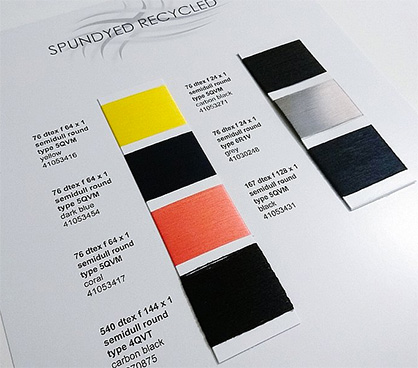 (c) 2019 Trevira
Like the use of biopolymers, recycling plays a key role in Trevira's policies. We offer filament yarnson the basis of recycled PET bottles. For these filament yarns the GRS (Global Recycled Standard) certification has been requested. Filament yarns from recycled PET bottles are available at Trevira as raw white and spun-dyed flat and textured yarns in various colours and yarn counts.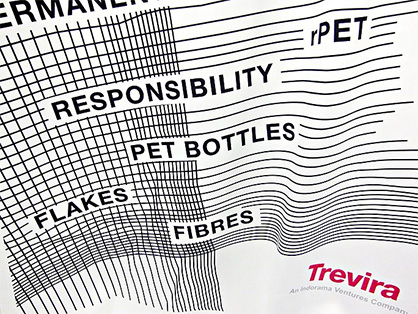 (c) 2019 Trevira
At the joint fair booth, Trevira will also present a piece-dyed fabric by Schmitz Textiles GmbH + Co. KG made of flame retardant Trevira filament yarns from recycled materials.

Recycling is important for staple fibres too. We are working with our sister company Schoeller GmbH & Co. KG to develop cable types from recycled materials that can be used in the automotive industry, and we expect to obtain GRS certification for these products in the near future. Flame retardant, recycled Trevira staple fibres are also currently at the development stage.

We have already been awarded GRS certification for our recycled combed tops, which are deployed in polyester-wool mixes (55% PET/ 45% wool) for corporate wear and uniforms.

Another important element of our sustainability policy is the manufacture of staple fibres without using antimony. We began to produce our staple fibres from normal polyester on an antimony-free basis as long ago as January 2018, and antimony-freeflame retardant staple fibres will be offered by Trevira as a standard from the second half of 2019. This will help us to meet the market demand for specific applications.

Another innovation in the area of filament yarns for flame retardant polyester home textiles can be seen in the use of Trevira CS fabrics for the outdoor sector. The hotel, restaurant and shipping sectors rely on fabrics that are equally suitable for outdoor and indoor use. Indoors, fabrics must comply with stringent fire safety legislations. Outdoors, they must meet safety requirements while also offering high fastness to light.

Generally, the outdoor trend shows no signs of slowing down. People want to be able to spend time outdoors, meaning that outdoor areas on the home and contract market need to be designed to the highest standards and using the very best materials. Textile fabrics that offer a pleasant handle and a wide colour range are in demand, when comfort and design is as important outdoors as indoors. To create high-performing, attractive textiles for outdoor use, Trevira now offers a new range of 23 UV-resistant, spun-dyed filament yarns. These are characterised by very high fastness to light, which is retained in textiles made of these yarns. Besides colour radiance and fastness, spun-dyed yarns also have an additional advantage. They are more sustainable than yarn-dyed products, as they do not require an additional dyeing process. This saves energy and helps protect the environment.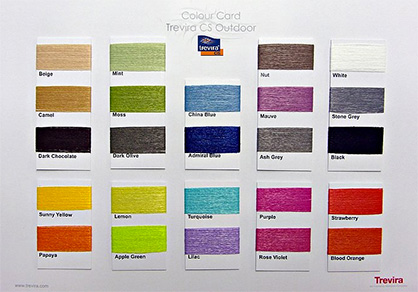 (c) 2019 Trevira
With our flagship brand Trevira CS and in collaboration with our sister company PHP Fibers GmbH, we have also developed a new type of pillow. The interior of the pillow consists of a new PHP Fibers product, BREATHAIR – a material created to provide breathable upholstery and filling solutions.The structurally innovative BREATHAIR textile, based on a thermoplastic elastomer, is highly water repellent and unusually breathable. As it is also offers excellent stretch qualities and durability, and is lighter than polyurethane but with equal rigidity, it is ideal for use in seat upholstery. These outstanding properties are due to a special 3D loop structure created from continuous filaments combined with the textile's elastomer components. The pillow case has been made of a Trevira CS fabric by Italian firm Fidivi Tessitura Vergnano S.p.A..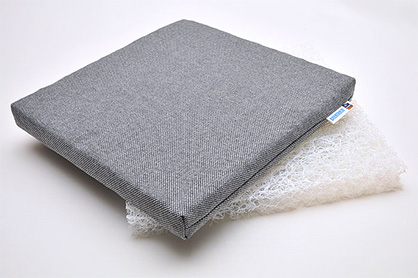 (c) 2019 Trevira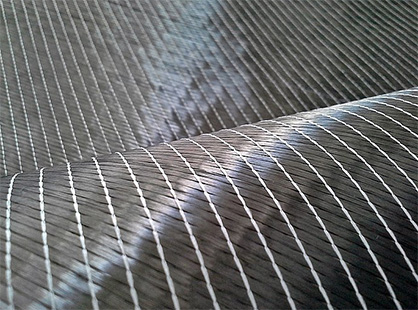 (c) 2019 Trevira
Furthermore, multi-layered, glass and carbon fibre materials for composites are in demand, and Trevira has now added special bonding filaments to its range. At the fair booth, Trevira will be presenting a multi-layer fabric produced using modified textured yarn.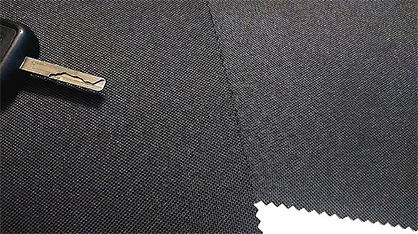 (c) 2019 Trevira
The demand for hybrid yarns also shows no signs of letting up, and yarns with a low-melt component play an important role in a number of sectors, including the automotive industry. Our fair booth will reveal a special fabric development which incorporates our low-melt yarn in the weft, deployed for example in covers for car boots.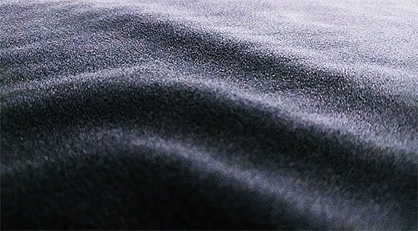 (c) 2019 Trevira
Another new textile developed especially for the automotive industry is the fabric 'Suede' by adient. This soft material is manufactured with Trevira multifilament yarns.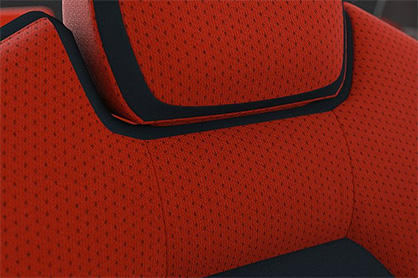 (c) 2019 Trevira
In a further innovation for the automotive sector, a collaboration set up between the development and engineering company imat-uve, Kobleder GmbH and Trevira GmbH has seen a new milestone in textiles design. Together, the three companies elaborated the unique 3D flat-knitting technology application for automotive interiors to this maturity, used for example to create seat covers and trim components. Importantly, it is based on a strict zero-waste principle, thereby saving resources. Because the textile application is knitted in one piece, companies save on materials and production costs. It means there's no more need to cut and assemble the fabric, and the knitted fabric itself can be manufactured entirely from Trevira yarns made from recycled material.

Related News
Latest News Techtextil 2019
More News from Trevira GmbH

Latest News