ITMA 2015
2015-10-14
Textechno with brand-new testing instruments at the ITMA
At the ITMA 2015 in Milano, Italy, TEXTECHNO Herbert Stein GmbH & Co. KG and their subsidiary company LENZING INSTRUMENTS (Austria) will present a number of brand-new testing instruments for fibres, yarns, and fabrics.
To Textechno's 'Cotton Control Line' several innovative instruments have been added including the MDTA 4 microdust-, neps-, trash-, and fibre-length tester as well as the automatic capacitiveevenness-and count tester for slivers and rovings COVASLIVE.
STATIMAT DS together with COVASLIVE offer the combination of the most essential test methods for slivers, rovings, and yarns - tensile properties, evenness and count – with a high degree of efficiency and flexibility.
In the field of automatic single-fibre testing FAVIMAT+ is now featuring more test methods incorporated in the equipment. A new sample feed unit - AUTOFEED – reduces labour for preparation of the test specimen and introduction into the test field to literally zero.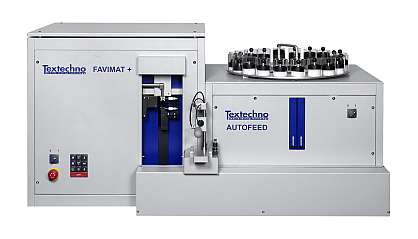 Pic: TexTechno Favimat with Autofeed
Textechno's new automatic capacitive evenness tester for filament yarn COVAMAT with its novel sensor design, automatic package changer and a high-speed yarn twister fulfills all requirements on an effective and reliable quality control system.
The concept to operate the universal filament yarn tester DYNAFIL ME+ either as a stand-alone unit or in combination with the capacitive evenness tester COVAFIL+ and the count tester COMCOUNT provides - apart from tensile strength and elongation - all relevant yarn parameters in one test system only.
For determining the number of interlaces Textechno has developed the new Interlace and Interlace Stability Tester ITEMAT+ TSI as the successor of the well-known ITEMAT by Enka tecnica after taking over all rights on this instrument. While the basic principle was kept the same, drives and electronics have been replaced by state-of-the-art technology and the mechanical interlace sensor has been completely re-designed to serve a larger linear-density range at better reproducibility.
Another highlight is the automatic drapability tester DRAPETEST for technical- and non-crimp fabrics.
This instrument allows to automatically characterize drapability and to detect defects during draping and forming. The tester combines the measurement of the force, which is arising due to forming, with an optical analysis of small-scale defects such as gaps and undulation by means of image analysis. A further optional sensor can determine large-scale defects such as wrinkles.
Joint booth of the Textechno Group – Textechno and Lenzing Instruments: Hall 2, booth E104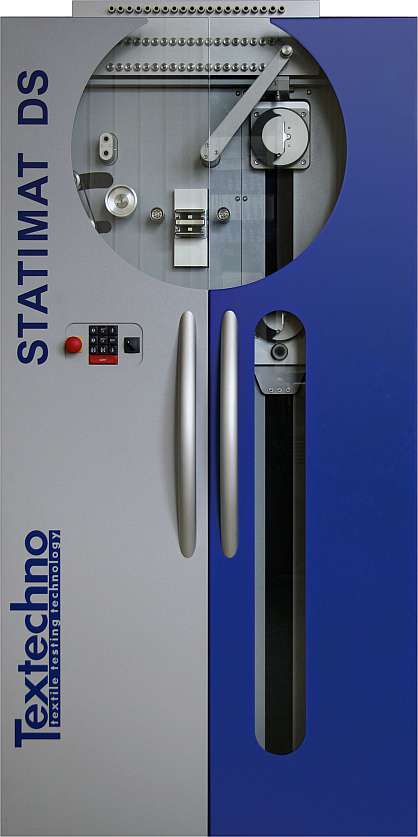 Pic: TexTechno StatimatDS
Related News
More News from TEXTECHNO Herbert Stein GmbH & Co. KG

Latest News