INDEX 23
2023-04-20
HYDRASPUN® Circula wins EDANA's INDEX™23 Award at INDEX™23 exhibition
Suominen's HYDRASPUN® Circula won EDANA's INDEX™23 Award at INDEX™23 exhibition, held in Palexpo, Geneva on April 18 – 23, 2023. HYDRASPUN® Circula was selected from the EDANA's shortlisted entries in the category of nonwoven roll goods, showcasing how innovation and sustainability are driving the nonwovens industry forward.
HYDRASPUN® Circula is Suominen's first ever moist toilet tissue nonwoven made with recycled paper. Typically, HYDRASPUN® products contain only virgin cellulosic fibers. In addition to virgin fibers, HYDRASPUN® Circula contains also fibers from recycled paper, without compromising the end product quality.
"HYDRASPUN® Circula demonstrates that innovations in nonwovens can support the circular economy and sustainable production. Receiving recognition for that is very rewarding", says Johanna Kivistö, Manager, Category Management, Europe.

"We warmly want to thank our partner, Codi Group, for creating such a great innovation in collaboration with us", says Markku Koivisto, SVP, Europe and R&D.
HYDRASPUN® Circula was developed specifically for moist toilet tissues but can be used also in multiple other applications. It is biodegradable and meets EDANA/INDA GD4 flushability assessment according to internal testing.

"HYDRASPUN® Circula represents years of research, development and collaboration among many functions across our global organization. We are extremely proud of the success we have achieved", says Avinav Nandgaonkar, R&D Manager.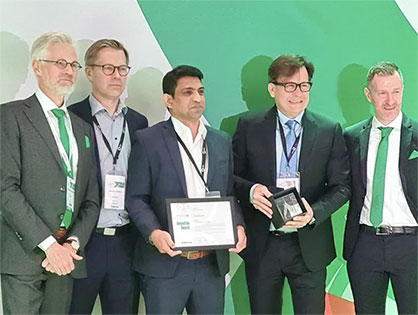 EDANA awarded Suominen with INDEX™23 Award. © 2023 Suominen
EDANA's INDEX™23 Awards are the highest accolade for excellence in the nonwovens value chain. The shortlist contains the best examples from the industry, highlighting creativity and innovation from businesses of all sizes, and across all parts of the nonwovens supply chain. The shortlisted entries are displayed at the INDEX™ Innovation Lab of INDEX™23 exhibition.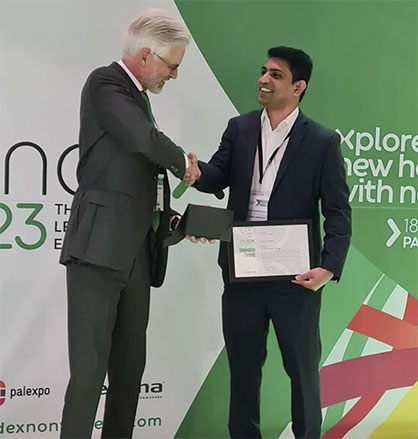 © 2023 Suominen
Related News
More News from Suominen Corporation

Latest News