IDEA 2022
2022-03-31
IDEA 2022: Freudenberg, Low & Bonar, and Filc showcase innovative solutions together for the first time

Dripstop - Simpler and more economical way condensation control for metal roofs © 2022 Freudenberg
For the first time since their merger in 2020, Freudenberg Performance Materials (Freudenberg), Low & Bonar, and Filc will share their latest technical textile solutions together. The companies work with the broadest technology platform on the market which enables the leading manufacturers of performance materials to equip technical textiles with an unparalleled variety of properties. Visitors can find Freudenberg at the IDEA Show in Miami from March 28 to 31, 2022 at booth 4408.
Even more sustainable: Evolon® made from recycled PET

With Evolon® RE, Freudenberg presents an even more sustainable version of its high-performance microfilament textiles. Evolon® RE is manufactured from an average of 70% recycled polyester, which the company makes by recycling post-consumer PET bottles in-house. Evolon® RE is available for various applications, including high-tech wiping and technical packaging, in weights currently ranging from 80g/sqm to 300g/sqm. Evolon® RE offers the same high quality and material performance as all other Evolon® textiles.

Unique filtration performance for better air quality

Colback® Plus is a pleatable medium with a built-in filtration capacity layer for use as a carrier in the manufacturing of cabin air, room air and HVAC filters. In Colback Plus, the well-known performance characteristics of Colback nonwovens support media – ensuring low pressure drop and high pleat stiffness – are combined with a unique fine fiber technology leading to a unique filtration product with outstanding performance characteristics, creating new capabilities for manufacturing and added value to customers

Simpler and more economical way condensation control for metal roofs

When the temperature and humidity conditions reach the dew point, moisture condenses on the underside of the uninsulated metal roof. If there is a lot of condensation, drops of water form and start to fall causing damage to the contents below. The traditional method for dealing with condensation is to try and insulate the roof so that the temperature on the panel never reaches the dew point. The roof panel with Dripstop anti-condensation membrane provides a medium for trapping this moisture in the specially designed pockets formed in the membrane. Dripstop holds that moisture until conditions go back below the dew point and it is released back into the air in the form of normal humidity.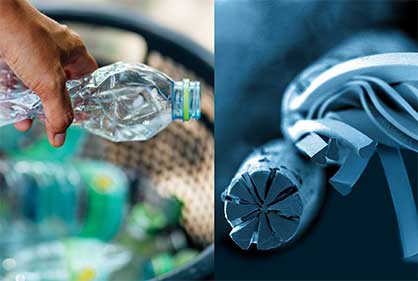 Evolon RE made from plastic bottles © 2022 Freudenberg
Related News
More News from Freudenberg Group

Latest News