Composites
2023-03-16
Sampe Europe and JEC expand their cooperation partnership about events and mutual community activation
Bringing together the global community of composites and advanced material, the Paris Composites Week, combining the SAMPE Summit and JEC WORLD, the leading event about composite materials, their technologies, and applications in various industries, will take place each year in Paris until at least 2026, pursuing the success of the previous editions. Both SAMPE Europe and JEC organizations have also committed to develop together new initiatives to connect young talents and students with academics and scientists.
On the occasion of the recent 2023 JEC Innovation Awards ceremony, Guy Larnac, President of SAMPE Europe and Eric Pierrejean, CEO of JEC have signed a 3-year extension of their current partnership about the annual organization of the SAMPE Europe Summit in Paris, the day before JEC World, as well as the annual SAMPE Europe Conference taking place annually in a different location in Europe, such as Madrid in 2023 and Belfast in 2024.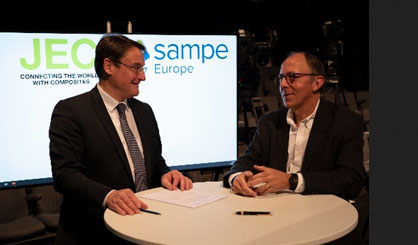 SAMPE Europe and JEC expand their cooperation partnership © 2023 JEC
Eric Pierrejean, JEC CEO, stated: "Both SAMPE and JEC are entirely dedicated to the composites and advanced materials community, fostering knowledge sharing and networking at their events. The success of our joint activities in Europe for many years and our mutual understanding have led us to expand our cooperation, in order to help students and young talents to join the composites industry, but also to promote academics and scientists' activities. The annual combination of the SAMPE Europe Summit and JEC World will make Paris again the Capital of composite materials for many years to come".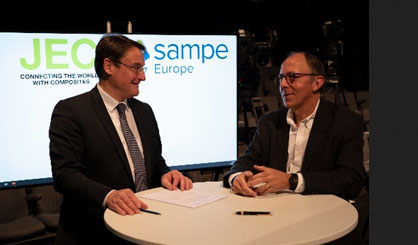 SAMPE Europe and JEC expand their cooperation partnership © 2023 JEC
Guy Larnac, SAMPE Europe President, stated: "SAMPE is entering into a new era strengthening the interactivity between the different regions constituting the SAMPE Global community. Two priorities are defined: engaged SAMPE in actions toward sustainable materials and processes and make SAMPE more active and attractive for Young Professionals. In these values JEC and SAMPE Europe are fully aligned and the collaboration which has been renewed and reinforced will permit to lead common actions, internationally, in these two directions and make it visible."

Save the dates

SAMPE Europe 2023 Summit

April 24 – Pullman Paris Tour Eiffel Hotel

JEC World 2023

April 25-27 – Paris Nord Villepinte

Related News
More News from JEC Group

Latest News