Composites
2018-11-12
Kordsa at Composites Europe with its composites technologies

(c) 2018 Kordsa
Kordsa participated in Composites Europe 2018, the world's foremost trade fair and international business platform for the composites industry, in Stuttgart, Germany on 6-8 November. Kordsa showcased the products for the commercial aviation industry produced by its newly acquired companies Fabric Development Inc, Textile Products Inc., and Advanced Honeycomb Technologies as well as its technologies for the automotive industry.
Kordsa exhibited its lightweigting prepregs and fabrics at Composites Europe, the international specialized exhibition of composite materials and equipment, with its innovative products and technologies. The fair attracts tens of thousands of visitors each year and was held in Stuttgart, Germany on November 6-8. Kordsa exhibited its solutions that add speed and efficiency to the automotive industry.
Kordsa also displayed the products of its three newly acquired companies Fabric Development Inc. and Textile Products Inc, which provide advanced woven composite to the aviation industry as well as the products of Advanced Honeycomb Technologies, which produces advanced materials to the aviation and aerospace industries.
Kordsa, reshaping the industries it operates with its reinforcement technologies, has become a major player in the supply chain of the growing commercial aviation and aerospace markets thanks to these composite investments.

Taking a solution-partner approach, Kordsa provides its customers with services such as design, analysis, materials library, prototyping support while also developing prepregs, fabrics, and resins as well as tailor-made and cost-effective composite intermediate materials.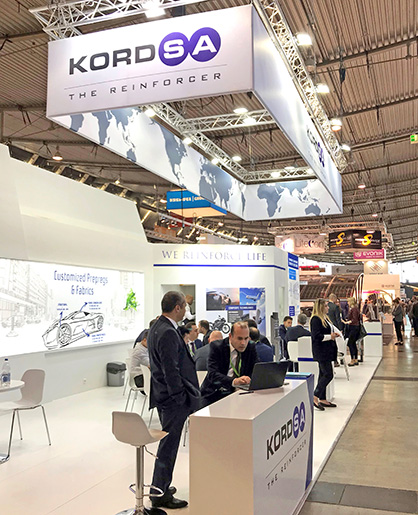 (c) 2018 Kordsa
Related News
More News from Kordsa Composite Technologies

Latest News