Associations
2021-12-16
Nominations open for AATCC Awards
AATCC presents several prestigious awards each year, along with thousands of dollars in honoraria. Some awards were established to recognize outstanding achievers in the textile sciences, whose discoveries influence the world. Others recognize AATCC members for service to the Association that has strengthened and promoted its purpose and mission to the world.
Nominate a deserving colleague, mentor, or protégé to acknowledge hard work and innovation. Nominations for all awards are due March 31, 2022. Selected recipients will be recognized at the AATCC Textile Discovery Summit October 4-6, 2022. Awards include complementary registration for the Summit and several include cash prizes.

Nominations for the TCR Service, Future Leader, Education, and Faculty Advisor Awards are open through March 31. Recipients of the Olney, Chapin, and Millson awards to be presented in 2022 have already been selected, but you may submit early nominations for 2023 recipients. Nomination forms for all AATCC awards are available online.

Learn more about AATCC awards or submit a nomination at: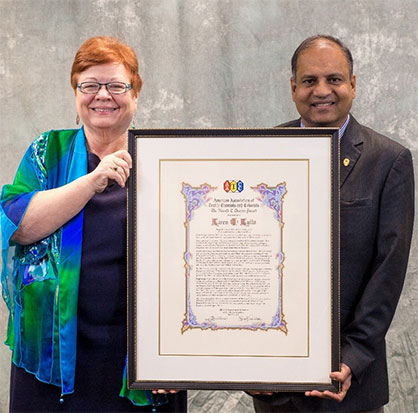 The Chapin Scroll presented for service to AATCC. © 2021 AATCC
AATCC Technical Committee on Research (TCR) Service Award

The award recognizes up to two senior members, with at least five years of continuous membership in AATCC, who have contributed outstanding technical service to the Association through activity in a research committee.

AATCC Future Leader Award

This award recognizes promising young professionals in the fields of textiles, apparel, and related material sciences. Nominees must be members of AATCC, 39 years of age or younger, and exhibit leadership skills.

AATCC Education Award

This award was created to recognize those members who have contributed extensively to the educational activities of AATCC.

AATCC Faculty Advisor Award

This award recognizes and promotes the work of AATCC student chapter faculty advisors who actively work to ensure their AATCC student chapters are active and growing.

Related News
More News from American Association of Textile Chemists and Colorists

Latest News