Other suppliers
2018-03-01
Applied DNA Sciences announced that it is collaborating with American & Efird, (A&E), one of the world's leading manufacturers and distributors of industrial and consumer sewing thread, embroidery thread, and technical textiles, to utilize its CertainT® platform to develop secure sewing threads for brand protection.
...more
Other suppliers
2018-02-08
The US machine vision and robotics startup Software Automation, based in Atlanta, has announced the newest SEWBOT® workline is available for global pre-order. The Digital Footwear Upper Workline expands the patented SEWBOT® Pick-Place-Sew™ automation for fully-automated shoe uppers.
...more
Other suppliers
2017-12-18
For a long time now, RSG Automation Technics, based in Bietigheim-Bissingen near Stuttgart, has established itself internationally as a world-leader for special facilities in the field of fully or semi- automated processing of narrow band textiles.
...more
Other suppliers
2017-07-19
Based on its recent analysis of the automotive leather- cutting equipment market, Frost & Sullivan has conferred Lectra with the 2017 Global Frost & Sullivan Award for Product Leadership. Lectra has leveraged more than 10 years of experience in connected manufacturing to offer Versalis®, an innovative digital solution designed to cut leather without compromise on quality.
...more
Other suppliers
2017-04-27
At the Techtextil 2017, Frankfurt, Textechno Herbert Stein GmbH & Co. KG, the experts for quality control systems, will show its latest testing instruments for industrial fibres, yarns, and fabrics.
...more
Other suppliers
2017-01-26
At the Texprocess trade fair in Frankfurt/Main, Germany, VEIT Group will display its products on more than 500 square metres in Hall 6, Booth B10, from 9 to 12 May 2017 to show the latest technologies in the area of ironing, finishing, pressing and fusing in the garment industry.
...more
Other suppliers
2016-11-10
At the ITME India 2016 in Mumbai, TEXTECHNO Herbert Stein GmbH & Co. KG (Germany) will introduce latest testing instruments for filament yarns, spun yarns and fibres.
...more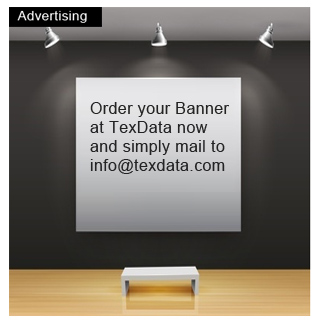 Older News
Other suppliers
2016-10-11
Loepfe Brothers Ltd. (H1 / B28) will present a comprehensive portfolio of quality control solutions for the textile industry at ITMA Asia, which will be held in Shanghai October 21st until 25th. For the very first time in Asia, the company will inform about the developments in the new LabMaster series. The series consists of the two measurement devices FIBERMAP, YARNMAP and LabMaster TOP. Both of them integrate the most important measurements into a single device.
...more
Other suppliers
2016-09-28
Jeanologia, the Spanish world company leader in developing sustainable technologies for the textile industry, has been named a National Champion for Spain in The European Business Awards 2016/17, the Europe´s largest business competition set up to celebrate business excellence and best practice in the European business community.
...more
Other suppliers
2016-09-05
At the ITMA ASIA 2016 in Shanghai, TEXTECHNO Herbert Stein GmbH & Co. KG (Germany) and their subsidiary company LENZING INSTRUMENTS (Austria) introduce the latest testing instruments for fibres and yarns.
...more
News Archive