Heimtextil 2022
2022-04-28
Trevira CS Club's 10th Anniversary / Trevira CS at the Heimtextil Trade Fair 2022
At the start of 2022, Trevira announced this year's Gold and Silver status members of the Trevira CS Club, which is celebrating its 10th anniversary this year. Trevira CS customers in the club are recognised for their loyalty. The club is open to all Trevira CS customers who have a trademark agreement and trademark approval. Admission and classification is based on a questionnaire.
Trevira CS Club's 10th Anniversary: The New Gold and Silver Members 2022

The evaluation process not only includes criteria such as order quantities, but also values like creativity, market presence and innovation. Numerous club members have been in the Trevira CS club since it was founded in 2012 and have benefited from the host of services and joint activities it provides. Trevira and its parent company Indorama would like to thank all Trevira CS customers for their loyalty, creativity and inspiring input and, in particular, for their contribution to the success story of the Trevira CS brand.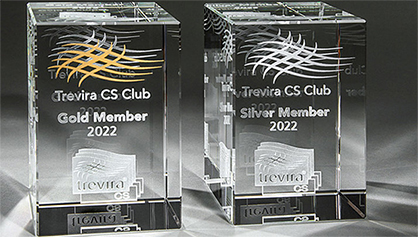 ©Trevira GmbH: Trevira CS Club Awards 2022
Trevira CS Club Members 2022 with Gold Status

Yarn Suppliers:

Fil Man Made Group S.r.l, Hoftex Färberei GmbH, Ilcat by Lei Tsu s.r.l., Spinnerei Lampertsmühle GmbH, Tintoria Sala s.r.l, Torcitura Fibre Sintetiche S.p.A., Torcitura Padana S.p.A.

Fabric Manufacturers:

Dina Vanelli Tekstil San. Ve Tic. A.S., Engelbert E. Stieger AG, FIDIVI Tessitura Vergnano S.p.A., Gabriel A/S, Gebrüder Colsman GmbH & Co. KG, Gebrüder Munzert GmbH & Co. KG, Hohmann GmbH & Co. KG, Lodetex S.p.A., P.I.F. S.A., PUGI R.G. S.R.L., SVENSSON, Tessitura Mario Ghioldi & C. s.r.l., van Clewe Sun Protection GmbH, Velener Textil GmbH, Verotex AG, Vescom Textiles GmbH, Wintex S.r.l.

Textile Editors / Wholesalers:

Artimo Textiles B.V., Création Baumann AG, Gerriets GmbH, JAB Josef Anstoetz KG, Kobefab International B.V., Kvadrat A/S, Panaz Ltd, Rubelli S.p.A., Verseidag-Indutex GmbH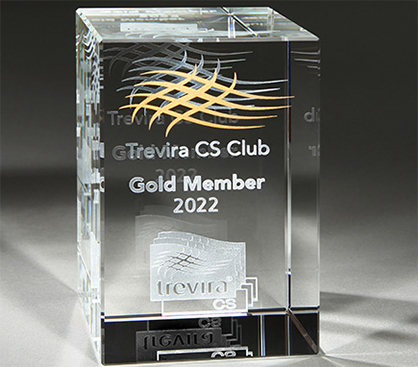 ©Trevira GmbH: Trevira CS Club Gold Award 2022
Trevira CS Club Members 2022 with Silver Status

Yarn Suppliers:

Selvafil S.A., Vlnap a.s.

Fabric Manufacturers:

Alois Tessitura Serica s.r.l., Ambience Home Textiles, Benaud Créations S.A., Chamatex S.A.S, Comatif SARL, Delius GmbH & Co. KG, DHJ Weisters Ltd, DNL spa (De Negri Luxury), E. Boselli & C. S.p.A., G-TEX S.r.l., Mario Sirtori S.p.A., Mattes & Ammann GmbH & Co. KG, Pongs Technical Textiles GmbH, Pozzi Arturo S.p.A., Regina Baumann GmbH, Rothböck Textilien GmbH, Sirio Tendaggi S.r.l., Spandauer Velours GmbH & Co. KG, Stotz & Co. AG, Swisstulle AG, Teksko Kadife A.S., TF Création S.A.S., Yanar Tekstil

Textile Editors / Wholesalers:

4Spaces GmbH, Lelièvre S.A.S., Métaphores S.A.S., Mottura S.p.A., Skopos Fabrics Ltd., SoFarSoNear S.n.c., Tapicerías Gancedo S.A., Zimmer + Rohde GmbH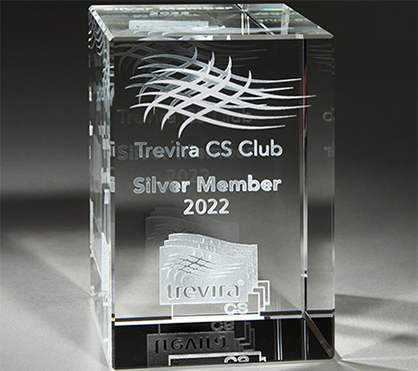 ©Trevira GmbH: Trevira CS Club Silver Award 2022
Trevira CS at the Heimtextil Summer Special

The Trevira CS brand will be exhibited at Heimtextil 2022. This year the trade fair will be held as a one-time Summer Special from 21 to 24 June in Frankfurt am Main, Germany. The booth will feature more than 200 fascinating, versatile, flame retardant Trevira CS fabrics.

These will be displayed in the Long Stay Apartment installation. Changing lifestyles, living and working arrangements as well as the housing shortage in countless large cities mean the Long Stay Apartment segment of the hospitality sector has experienced exponential growth, becoming ever more important. For this reason, it is the focus of this year's Trevira CS booth. The presentation of the "Long Stay Apartment by Trevira CS" is intended to familiarise visitors – particularly interior architects, designers and furnishers – with the trendsetting, innovative uses of Trevira CS fabrics in the contract sector.

For the design of the apartment installation, the traditional Trevira CS Fabric Competition 2022 was announced at the end of 2021 and invited all Trevira CS customers to submit their latest Trevira CS products according to certain specifications. The winning fabrics will be announced at the trade fair and specially exhibited at the Trevira CS booth.

Director Marketing & Business Development Anke Vollenbröker: "Our exhibition gives exciting new insights into the modern concept of the Long Stay Apartment, presenting the live application of our customers' Trevira CS innovations. An apartment designed for Long Stayers is a special challenge since it has to provide more than a hotel room or even an ordinary rental apartment: It needs to be an attractive temporary home while also offering the services and advantages of a hotel. We have made the Long Stay Apartment particularly "textile" and included submissions from all participants of our Trevira CS Fabric Competition 2022."

The Trevira CS team looks forward to welcoming visitors to the 176 sqm booth in Hall 4.1, Booth D15 in June.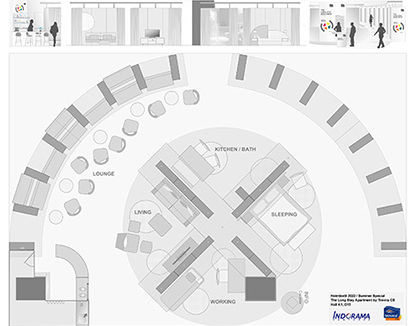 ©Trevira GmbH. Trevira CS Booth at the Heimtextil Summer Special 2022
Related News
More News from Trevira GmbH

Latest News