Texprocess 2017
2017-03-28
Digital is now – the digital planning, designing and coordination of apparel

The Digital Fashionboard (c) 2017 Human Solutions Group
Pull on a pair of goggles and view the current collection in a virtual room together with partners from all around the world, then make your decisions. Does this sound like science fiction? The Human Solutions Group will show that this and much more is possible at the Texprocess in Frankfurt from May 9 to 12, 2017.
Digital is now – the companies of the Human Solutions Group will present new solutions this year that help businesses to exploit the potential of digitization to achieve their product devel-opment goals faster and more cost-effectively. Two special highlights that revolutionize the development of apparel will be showcased at the booth: the Digital Fashionboard and the Digital Showroom.
The Digital Fashionboard replaces the analog Moodboard. It networks product development and visualization in 3D with information that comes straight from the PLM system. The correct prototype can be found faster and important decisions can be made on the digital model, even before a piece is sewn.
Also at the booth: The Digital Showroom, in which people in dif-ferent locations can plan, view and revise the next collection.
"Many companies in the apparel industry are currently focusing on digitization; but at which point in product development does it makes sense to start working digitally? And when digitization has been introduced, what's the next step? We'll be answering these questions at the Texprocess," says Dr. Andreas Seidl, CEO of the Human Solutions Group.
The Human Solutions Group cordially invites to visit their booth C21 right at the entrance to Hall 4.0. Visitors will see their latest developments – showcased over an area of 500 m²!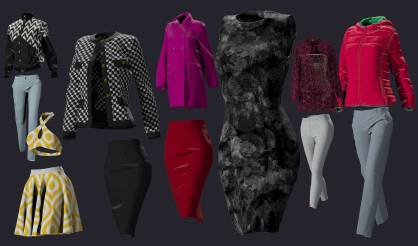 Pic: With Vidya people can inject reality into their development process.(c) 2017 Human Solutions Group
Related News
Latest News Texprocess 2017
More News from Human Solutions Group

Latest News