Techtextil 2017
2017-05-02
Kufner Group will exhibit innovative textile solutions and technologies
The Kufner Group will exhibit innovative textile solutions and technologies for various technical applications at the upcoming Techtextil 2017 in Frankfurt am Main. The focus is on three themes: technical textile heating solutions, EMC-shielding as well as stabilization of leather and fabrics.
For over a decade Kufner has also directed its engineering competence towards developing and producing high-quality technical fabrics. XShield®, Kufner's solution against electromagnetic radiation, has a variety of applications in different markets: from fashion and casual wear to home textiles, automotive, military, sports, health all the way to building- and electronic industry uses. XShield® technology can also protect against unauthorized access via RFID-data-theft.
Ulrich Sogl, CEO Kufner Holding GmbH: "At this year's Techtextil, we will present our solution oriented competences and textile know-how in the field of technical applications to the attending expert audience. For our 2017 Booth, we have chosen an interactive concept, in order to be able to demonstrate the advantages and functions of our technologies to our visitors."
Techtextil is the ideal meeting point to present the company's core competences in the three areas of technical textile heating solutions, EMC-shielding as well as stabilization of leather to a broad audience. During the trade show a number of recently developed products will be shown as exhibits at the booth.
The THS (textile heating systems) technology developed by Kufner has been used in automotive interiors in the field of dashboards, steering wheels and seats for some time. The most recently developed solutions in this area will be presented at Techtextil together with partners in the automotive industry. There are, however, a number of possible applications of THS technology in very different sectors.
Besides apparel applications, such as active sports or health care, Kufner technology can provide heating for the artificial grass of a football field or geotextiles in greenhouses. Ulrich Sogl: "In the next few years, we want to establish brand new applications for our THS technology, to complement those already successfully established. The interdisciplinary platform Techtextil will be a great starting point to establish new contacts and get to know additional target audiences."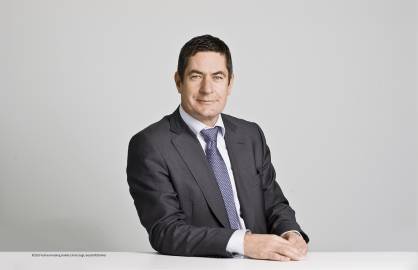 Pic: Kufner CEO Ulrich Sogl
Kufner Group, with an over 150 years of tradition, is known for technically advanced fusible interlinings and shaping canvas all across the high-quality fashion sector: ladieswear, menswear or children's clothing. The majority of Kufner's woven, knitted and nonwoven interlinings go into menswear and have set completely new standards for the entire industry. The invisible ultra-light textile interlinings are defined by their excellent characteristics and provide perfect fit and shape to even the finest surface material.
Kufner is also world leading in stabilizing leather for car seats and upholstery. All renowned car producers use the refined technology to maintain the natural elasticity of leather while simultaneously achieving the required stability. Kufner has over 150 years of textile expertise and successful partnership with the industry. Research and development in its own four production sites allow the company to react to the demands of its worldwide customer needs in a timely manner.
Related News
Latest News Techtextil 2017
More News from TEXDATA International

Latest News