Techtextil 2017
2017-04-25
Freudenberg PM shows huge variety of innovative solutions at Techtextil
The limited availability of oil, the rising populations of megacities, high demand for eco-friendly mobility and the need to reduce CO2 emissions on a global scale are megatrends that require new technological solutions for generating and storing electricity. Freudenberg is responding to these trends with various innovations.
One example is the battery separators, which significantly contribute to providing the safety, reliability and long working life needed in batteries. A second example is the redox flow battery (RFB) used in long-term storage technology. Third, the gas diffusion layers that are one of the critical performance components in fuel cells.
However, energy is just one area of Freudenberg's expertise. Evolon® is a unique innovative technology that combines the spinning of endless bico-filaments with splitting by hydroentanglement to generate extremely fine microfilaments. Thanks to this revolutionary technology, Evolon® can be used for a multitude of applications. With comfortemp® fiberball padding, they are offering a new dimension in thermal insulation as a replacement for down: warm, light and breathable with no processing limitations. New to their product portfolio for advanced wound care are hydrophilic polyurethane foams, which offer superior absorbency and comfort.
Hydroactive nonwovens are a core part of innovative wound dressings. Sustainability is part of their commitment to responsibility and is not restricted to sustainable products. Much more than a simple process, it expresses the aspiration to engage as a global company. In 2014, Freudenberg signed the United Nations Global Compact – an initiative that aims to conduct business responsibly with regard to human rights, compliance and sustainability.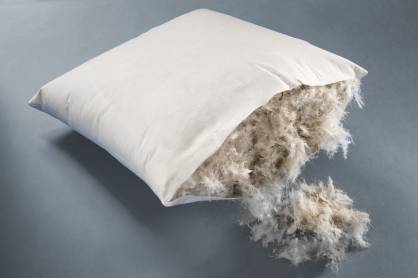 Pic: Evolon super microfilament downproof (c) 2017 Freudenberg Performance Materials
Related News
Latest News Techtextil 2017
More News from Freudenberg Group

Latest News