Techtextil 2017
2017-04-12
FIBER-LINE® with synthetic wire rope products at Techtextil
FIBER-LINE® will be exhibiting at the 2017 Techtextil International Trade Fair. The FIBER-LINE® team will be promoting our newest product line of synthetic wire and high-performance ropes.
FIBER-LINE® is now able to transform traditional wire rope constructions by utilizing high performance fibers such as:
Kevlar®
Vectran®
Zylon®
Technora®
UHMWPE
Carbon fiber
Synthetic wire rope products provide a host of improvements over its metal predecessor including reduced weight, higher strength, prolonged life, improved flex, and corrosion resistance amongst many others.
At 2017 JEC World International Composite Event in March the FIBER-LINE® team introduced the market to Advanced Carbon Fiber processing.  Carbon fiber offers many excellent inherent properties, but is often difficult to process compared to other high-performance fibers.  FIBER-LINE® R&D teams have studied, investigated, and tested several intricate processing enhancements to better handle the fragile filaments within the carbon tow.
Sales manager Ingmar Otter concluded that "JEC was yet again a very busy and productive show.  There were several companies from around the globe that attended the event and booth traffic was quite high.  I spoke to many individuals about the benefits of FIBER-LINE® Bondcoat™ on carbon for adhesion promotion and FIBER-LINE® Wearcoat™ as a processing aid in braiding, knitting, and weaving processes."
And US based Sales manager Bryan Arnold stated that "Twisted carbon fiber was one of topics I discussed most with our current customer and prospective customers who stopped by the booth.  Most of the customers were interested in FIBER-LINE®'s ability to optimize the carbon tow for increased break strength or improve flex fatigue."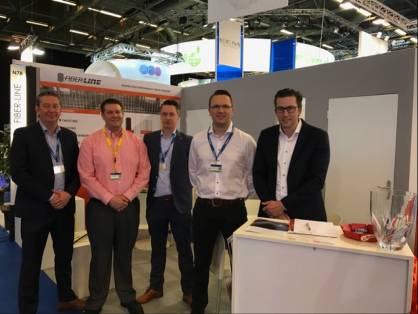 Pic: The FIBER-LINE Team at the JEC 2017

FIBER-LINE® looks forward to welcoming visitors at the booth A36 in Hall 4, Level 1, to discuss their newest technologies in processing, coatings, and product development.
Related News
Latest News Techtextil 2017
More News from TEXDATA International

Latest News