Spinning
2018-05-03
Oerlikon announces record Q1 with growth in all segments
"We have started the year very strongly, achieving a record in orders and sales, and have also improved our operating profitability," said Dr. Roland Fischer, CEO Oerlikon Group.
"All three Segments contributed to the excellent results. The surface solutions business progressed steadily on its growth path – both organically and through two targeted technology acquisitions. The Manmade Fibers Segment achieved another quarter of substantial growth, while the Drive Systems Segment noticeably advanced its business in recovering end markets. Our outstanding results confirm that we have the right strategy, focusing on strengthening our core businesses, to sustain profitable growth. Based on this performance, we affirm our guidance for the full year."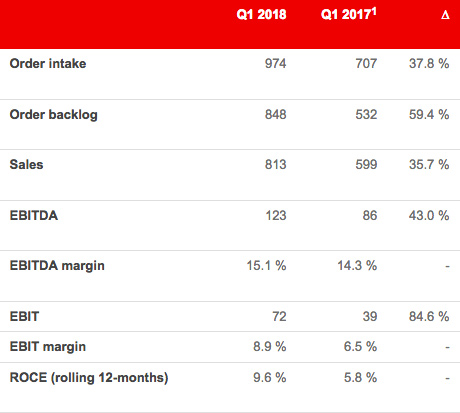 Key figures of the Oerlikon Group as of March 31, 2018 (in CHF million) / (1) Restated according to new IFRS 15 (revenue recognition) accounting standard. (c) 2018 Oerlikon
Over 35 % increase in Group order intake and sales
Continued steady growth in Surface Solutions Segment
More than doubled order intake, sales and EBITDA in Manmade Fibers Segment
Strong top-line growth and double-digit EBITDA margin in Drive Systems Segment
Higher year-on-year Group EBITDA margin at 15.1 %
Guidance confirmed
Excellent Group orders, sales and profitability achieved
The positive sentiments in the global economy continued from 2017 into the first quarter. The high level of capital investments and demand for services were seen across all Oerlikon's end markets. Effectively exploiting the market opportunities, Oerlikon achieved an all-time high in order intake and sales – raising both by more than 35 % year-on-year – and a nearly 60 % increase in order backlog. At constant exchange rates, sales stood at CHF 787 million.
The Surface Solutions Segment remained on its growth course, increasing orders and sales in equipment, materials and services globally. In particular, very strong demand was noted in general industries. The Manmade Fibers Segment significantly boosted its top line and operating profitability. The Segment more than doubled orders and sales, attributed primarily to the filament equipment business in China, and substantiated with a high level of new business in India and Turkey for filament equipment, as well as for texturing, carpet yarn and staple fibers equipment. The Drive System Segment realized around 20 % gains in orders and sales, as it secured wins in all key end markets globally, in particular in agriculture, transportation and automotive.
Bolstered by the exceptional top-line performance and reinforced by disciplined cost management, the Group's year-on-year EBITDA increased to CHF 123 million, yielding a high EBITDA margin of 15.1 %. EBIT for Q1 2018 stood at CHF 72 million, or 8.9 % of sales. The first-quarter performance resulted in a rolling 12-month Oerlikon Group ROCE of 9.6 %, reflecting the higher operating profit over a slightly increased asset base. For the first quarter of 2018, Oerlikon generated 30.4 % of total Group sales (Q1 2017: 37.8 %) through services, reflecting the high level of equipment sales, specifically in the manmade fibers business.

2018 outlook confirmed
Oerlikon expects the overall positive momentum in its end markets to persist in the upcoming quarters. However, geopolitical tensions and protectionist policies could impact international trade and business in industrial sectors. Based on the Group's strong performance in the first quarter, the Group expects order intake to increase up to CHF 3.4 billion and sales to around CHF 3.2 billion for the full year 2018, and to deliver an improved EBITDA margin, after offsetting investments in additive manufacturing, of around 15 %.
Manmade Fibers Segment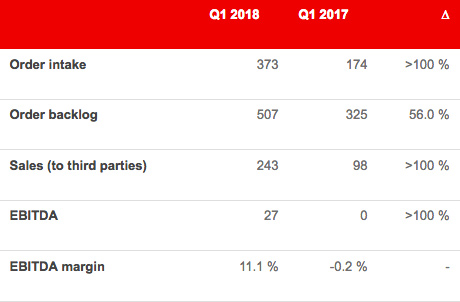 Key figures of the Manmade Fibers Segment as of March 31, 2018 (in CHF million) (c) 2018 Oerlikon
The filament equipment business was the main contributor to the Segment's remarkable performance in the first quarter. The Segment secured large-scale orders and benefited from positive market sentiments for upgrading of production capacities. The strong sales for filament spinning machines provided a stable project landscape for texturing machines. The Segment's top-line growth was mainly led by business wins in China, however, a high level of demand was also noted in India and Turkey for filament equipment, as well as for texturing, staple fibers and carpet yarn systems. In North America, a noticeable uptick in orders was registered, attributed to the healthy growth in the carpet yarn business in this market.
Supported by the high level of sales, EBITDA was more than 100 % higher than in the previous year. EBIT for Q1 2018 stood at CHF 22 million (Q1 2017: CHF -5 million) and the EBIT margin was 8.9 % (Q1 2017: -5.4 %).
Related News
More News from Oerlikon Textile GmbH & Co. KG

Latest News