Raw Materials
2018-12-05
High-tech help is on the way for small-scale farmers
In many of the world's industries, robots and artificial intelligence are eliminating jobs and putting people out of work. In some less developed countries, however, high-tech solutions are being created to perform agricultural tasks for which human labour is either too expensive or simply not available.
The ICAC's 77th Plenary Meeting:
Is being held in Abidjan, capital of Côte d'Ivoire, 2-6 December 2018, at the Sofitel Abidjan Hotel Ivoire
Has 'Cotton Challenges: Smart and Sustainable Solutions' as its theme
Focused on several new technologies that are being developed to assist small-scale farmers, particularly in Africa, during its Third Open Session
Featured examples of innovative new technologies, including self-driving harvesters and artificial intelligence, as well as a live display of a flying drone

That was the key message from the Third Open Session at the 77th Plenary Meeting of the International Cotton Advisory Committee (ICAC), which is being held 2-6 December at the Sofitel Abidjan Hotel Ivoire.
Cutting-edge technologies are focusing on new ways to enhance cotton cultivation throughout the growth cycle.
Growers can use flying drones equipped with cameras to map their land prior to planting; artificial intelligence can evaluate the information provided by drones to help the farmer use that space as efficiently as possible; and self-driving rovers can be used not only to pick cotton during harvest, but also to inspect the plants as they mature to identify and eliminate pests and weeds.
Significant challenges will need to be addressed before these technologies become widely available, especially their up-front costs and the lack of power sources efficient enough to run the equipment for an extended amount of time.
Small-scale farmers rarely have the financial resources needed to buy cutting-edge equipment at current prices, and many small-scale growers live far from fuel supplies, severely limiting the utility and effectiveness of the equipment.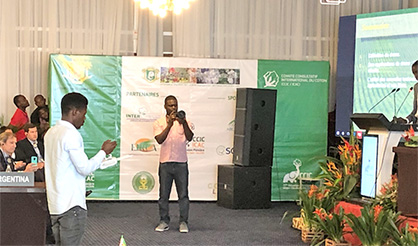 (c) 2018 ICAC
However, all of the speakers agreed that while the challenges might be formidable, they are far from insurmountable. They pointed out that cell phones were prohibitively expensive when they were first introduced, but once the technology gained broader adoption, prices dropped rapidly. And, while batteries haven't been a major focus of technology firms in recent years, the potential of solar power and the development of innovative new fuel cells offer tremendous potential.
With both entrepreneurs and governments actively searching for — and investing in — innovative ways to eliminate poverty, there is reason for small-scale farmers around the world to be optimistic that high-tech help is on the way.
The speakers at the Third Open Session were:
Manohar Sambandam, founding partner and CEO of Green Robot Machinery Pvt. Ltd., Bangalore, India
Rajesh Jain, Senior Director, Wadhwani Institute for Artificial Intelligence, Mumbai
Glen Rains, Professor, University of Georgia-Tipton, USA
Paulin Konan, Technical Director, WeFlyAgri, Abidjan, Côte d'Ivoire

Related News
Latest News Raw Materials
More News from International Cotton Advisory Committee (ICAC)

Latest News