ITMA 2015
2015-11-17
Colorjet hosts design contest among renowned NABA University fashion design students

Left to right: Luigi, Jasmine, Emma with ColorJet Group Brand Manager Smarth Bansal (c) colorjet
As a precursor to ITMA 2015 and in order to encourage talent among graduating students from fashion design institutes, Colorjet Group, the largest manufacturer of digital textile printers in India, organised a design competition for fashion design students of NABA University in Milano, which has within its fold one of the renowned and leading fashion design institutes in the world.
The competition received entries from more than 40 students from among which, three entries were chosen for the top prizes. They included designs from Jasmine Boussena, Luigi Miollo and Emma Tranchini, all from the third year of the fashion designing course at NABA.All the three students were invited to the ColorJet booth at ITMA 2015 in hall 18, stall H-102 and their designs were printed on the METRO, a truly advanced industrial grade digital textile printer, which fantastically incorporates the latest technology and efficient engineering to meet the ever growing demands of textile printing.
Compatible to work with all types of inks like reactive acid disperse and pigment, this printer weaves magic on a variety of fabrics. Be it any kind of fabric, ranging from 0.1mm to 30mm including cotton, polyester, silk, viscose, wool, nylon, acetate and various blended fabrics can be printed on the METRO.In a first experience of its kind for these budding fashion designers, the students were thrilled to see their designs being printed on the METRO digital textile printer.
All the three students were presented the fabrics printed from their designs and a cash prize of €200 each. One of the prize winners, Jasmine said she loves designing which is why she took part in the competition and is very much excited that her design won her a prize.
She was also full of praise for the design that was printed on a METRO printer as the colours were as vivid and sharp as in the design that was submitted by her.

Pic: Jasmine and her design
Jasmine is planning to design an outfit for herself from the fabric printed on the METRO printer. Luigi Miolli also a third year student too was very thrilled on winning the prize from Colorjet.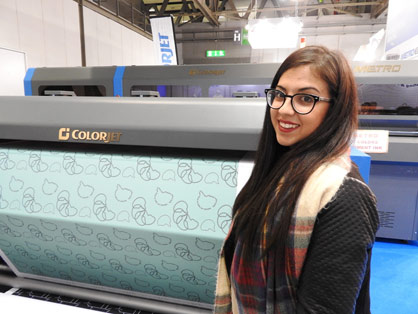 Pic: Emma and her design

Luigi designed the black color design print in just two hours and also was amazed to see the printed design on the fabric and appreciative of the printing qualities of the METRO printer.He plans to make a shirt or a t-shirt from the printed fabric that was designed by him. Emma participated in the competition to find out if her designs would be appreciated by others from the industry and she drew inspiration from a famous author and According to Emma, the colours in the printed fabric is similar to that shown in her design. She stated that digital printing technology will bring revolution in fashion designing and plans to design a dress or a jacket out of the fabric that was printed on the METRO printer.
ColorJet Group Brand Manager Smarth Bansal said, "The objective of organising the contest was to encourage emerging talent from among the fashion designing students of the renowned NABA University. The thrill we saw on the faces of these young students as they saw their designs being printed on the METRO digital textile printer was the ultimate satisfaction for all of us at ColorJet Group."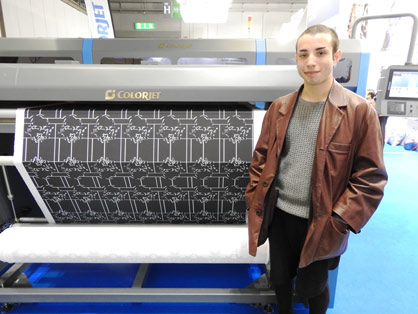 Pic:Luigi and his design
Related News
More News from TEXDATA International

Latest News