ITMA 2015
2015-10-29
French Machinery @ ITMA 2015

NSC card SW35PP (c) NSC
30 specialty textile machinery manufacturers, often world leaders on their specific markets, with a total annual consolidated turnover of 1 billion Euros (1.1 billion US dollars) make France the sixth textile machinery exporter. They are particularly strong in long fibre spinning, yarn twisting, heat setting, Jacquard and dobbies, carpet systems, dyeing and finishing, felts and belts for finishing processes, nonwovens, air and recycling processes.
Bruno AMELINE, president of UCMTF, their association, is inviting ITMA visitors to discover each individual company's innovations. "Innovation is in our DNA", he says, "remember Joseph Marie Jacquard, the most well-known textile machinery inventor, he was French! Frenchmen also invented the steam-powered automobile, vaccines, the high-speed train, the supersonic commercial airplane, computer chips on payment cards and much more! France sometimes has a reputation of great new ideas, poorly marketed. This has largely changed, as our textile equipment companies are SME's run by entrepreneurs. Innovation is now derived mainly from down-to-earth partnerships with our clients. We work with our clients to help them to introduce new products on their markets, to have reliable and cost efficient, energy saving production processes. This gives us a real competitive advantage".
Hall 1
EBELMANN Stand H 1 - B 105
Established in 1981, specialized in hard materials' machining, 80 % of EBELMANN's production is dedicated to the textile industries (special cutting devices). Thanks to constant technical innovation, equipped with fully digitised machining centres at the leading edge of technology, EBELMANN contributes, with its customers and partners, to the enhancement of their production resources by offering reliable high performance solutions like special cutting devices specially drawn for industrial textile machines.
EBELMANN offers a manufacturing service and a re-sharpening service for all types of cutting devices (made in tungsten carbide, high speed steel and ceramic).
For technical fibres as Kevlar®, carbon or glass, EBELMANN manufactures very special scissors, with carbide tungsten blades, in association with polycrystalline diamond inserts.
MALLEIN Stand H 1 - H 107
With 70 years of experience, MALLEIN is a specialist of the beam for warping and weaving, able to answer to all needs of the actual textile activity. The entire integration of its aluminium foundry and all of its production facilities allowed MALLEIN to answer to all specifics enquiries particularly thanks to his know-how in special aluminium alloys.
MALLEIN will exhibit its new range of aluminium canisters at ITMA 2015, canisters that we are improving each year, in order to produce them stronger and with a greatest geometric precision.
MALLEIN is certified ISO 9001 V 2008, ISO 14001 V 2004 and OHSAS 18001 V 2007.
STÄUBLI Stands H 1- B 111- B112 and H 7 - B102 (in hall 7)
As a leading supplier in the field of textile machinery, STÄUBLI offers an extensive range of products including shedding systems – cam motions, electronic dobbies and Jacquard machines for weaving machines – as well as weaving preparation systems, carpet weaving machines and weaving systems for technical textiles. The family-owned company holds a strong position in 25 countries through its sales and customer service subsidiaries and provides global coverage through its network of agents in 50 countries.
At ITMA Milano 2015 STÄUBLI will have a large 990m2 two-level stand where three complete Jacquard installations on weaving machines will be exhibited. Noteworthy is the production of African Damask at high-speed as well as the production of fantasy ladywear. In addition an OPW airbag (one piece woven airbags) will be woven on the new LXL Jacquard machine, which is particularly suitable for large-format applications. This installation will be equipped with a specific harness with 11,680 cords for heavy loads in conjunction with an air-jet weaving machine with a nominal reed width of 280 operating at a rate of approximately 800 weft insertions per minute.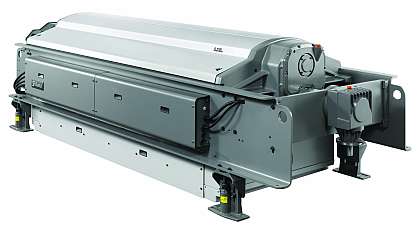 The new, third generation of Stäubli rotary dobbies, the S3060/3260 series, will be demonstrated in a variety of applications. These reach new heights of performance and reliability.
Weaving preparation systems is launching two novelties, completing the successful SAFIR family of automatic drawing-in machines: the mobile SAFIR S40 automatic drawing-in machine and the new SAFIR S60. The SAFIR S60 will be demonstrated drawing in a four-colour 175cm-wide warp with Nm 135/2 and Nm 170/2 cotton yarns without a lease. The warp-tying process will be demonstrated with two warp-tying machines: MAGMA and TOPMATIC.
 
The STÄUBLI business unit SCHÖNHERR carpet systems boasts another spectacular product launch: a new ALPHA carpet-weaving machine in operation. The latest collection of exclusive carpet samples produced on ALPHA carpet-weaving machines can also be admired at the booth.
At a separate booth, B102 in Hall 7, STÄUBLI with its business unit DEIMO knitting solutions and DEIMO digital drives is exhibiting state-of-the-art electronic drives and control solutions mainly for knitting machines.
Hall 2
AESA Air Engineering Stand H 2 - C 106
AESA is a worldwide leader in air engineering for all textile production processes of natural fibers, man-made fibers and filaments in their different stages:  spinning, knitting, weaving, hosiery, different types of nonwovens and fiber productions, as well as dyeing and finishing.
The group supplies air conditioning and waste collection systems to the textile industries as well as for various other industrial processes.
Customers focussing more and more on better energy and environmental efficiency are using AESA know-how and experience in design and implementation of air conditioning plants for a lighter footprint with general production benefits and cost savings.
Demand is increasing for implementing Aesa-Flexicontrol in spinning and weaving factories, allowing automated adjustment of consumptions to the actual needs.
Also the well-known WEAVE DIRECT systems offer substantial reductions in power consumption combined with accurate condition building on weaving looms thanks to a dedicated supply air ducting system with diffusers above each loom.
The user-friendly and accurate DIGIVENT control and monitoring system is communicating in interactive screen functions and is allowing a wide usage of recorded data for analysis, statistics and housekeeping. 
These continuous steps provide a win-win partnership based on AESA's expertise in these special fields for more than fifty years worldwide and lead the way for a better future.

NSC Schlumberger Stand H 2 - E 110
N. SCHLUMBERGER has developed a new GC40 chain gill which will be exhibited on the booth, with a more universal head combined with a fully multi motor drive. It is user friendly, highly automated, saves money on energy and has low operational and maintenance costs and is therefore more cost effective. 
Intersecting
Will be shown, the GN8, a new intersecting based on the latest design of chain gill drive combined with universal drefting head of GN series. It designed to process wool and any kind of wool like fibres. It is particularly adapted to process delicate, fine and short fibres such as cashmere, silk or fibres with low cohesion.
Combing
N. SCHLUMBERGER unveils the latest enhancement to its very popular series of ERA combing machines. It includes much more user friendly designs, with automatic adjustments from the touch screen, with a working width increase and higher load, therefore increasing production by 25%. 
Carding
N. SCHLUMBERGER semi worsted card – one of the many top making machines offered by NSC fibre to yarn -  from its innovative production range for all types of long staple chemical fibres, 2.5 to 3.5m working width, hopper feeder, TRD drafting head, integrated suction, screen control.
N. SCHLUMBERGER offers its customers an excellent after sales service with very professional teams of experts for all technical issues. NSC provide quick assistance when needed, as well as training courses for customer staff'. The company also offers programs in audits for existing machines, kits for machine renewal and ongoing maintenance programs.
Also N. SCHLUMBERGER is well positioned to deliver customers fully integrated systems and deliver complete production lines from fibre opening and blending to finished bobbins. NSC works with other leading machinery manufacturers to supply specific equipment that is not in its product range but is complementary to it, manages installation from start to finish and provides the customers guarantees and assurances.
NSC customers who have upgraded to the latest models experience a faster turn-around, better quality outcome and more trouble free production
Hall 3
LAROCHE Stand H 3 - G 101
LAROCHE, a world leader in textile waste recycling lines, will display the following machines:
Airlay type "Airfelt/Resin felt 2400:
The "Airfelt" is a new and simpler type of vertical Airlay which retains the advantages of true air forming technology. With a weight range of 300-3000gsm, it is suitable for most products used by the automotive and furniture industries.
With the "Resin felt" option it is possible to add phenolic or epoxy resin to the airlaid mat which is then semi cured in a steam oven.
Tearing machine type" JUMBO 2000" for high capacity recycling of all types of textile wastes including used clothing and post-consumer carpet wastes.
Edge trim opener type "Minitrim 200" for on line or off line recycling of light weight edge trims.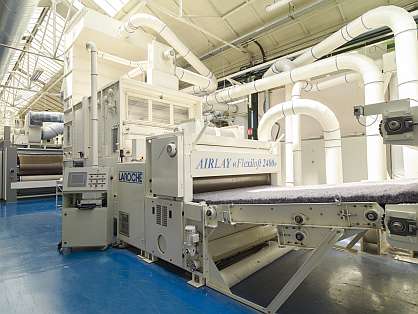 Pic: LAROCHE_Airlay_Flexiloft
LAROCHE's sales and technical team will be available to show samples and discuss their latest developments such as:

products made from recycled post-consumer mattresses and carpets.
decortication and refining of bast fibers for technical applications.
new fiber blending and dosing lines
Airlay type "Flexiloft" with a 300 to 10000 gsm range and on which LAROCHE can now run thermobonding trials in its lab with a "Schott and Meissner" oven.

 
Hall 4
FIL CONTROL Stand H 4 - C118
FIL CONTROL, recognized in the textile industry for its first class sensors and cutters, will present a full range of new and innovative products.
Following its 2013 integration into the French Reyes Group, FIL CONTROL development capacities have been even stronger than before, with more than 10 new sensors and solutions developed during the last 2 years.
At ITMA, will be shown the new Hall Effect products range, the new MOS-LC which is the most cost effective optical sensor on the market for the winding machine segment and the innovative tension measurement devises MYT and MYT-T.
It will also be an opportunity to discover how far FIL CONTROL increased its optical reflective technology knowledge that will open doors to a new range of products and solution that textile machine builders were waiting for years.
PETIT Stand H 4 - C 119]
PETIT has a consequent and permanent storage capacity of spare parts with more than 20 000 references multi brand for fine count textile machines especially for ICBT and looms for SAURER DIEDERICHS.
All technical drawings for manufacturing of spare parts compliant with the genuine ones.
An acknowledged know how with a wealth experience in the field of covering, texturizing, twisting.
PETIT is the specialist in the trade of accessories for textile machines.
The company is also covering spindles manufacturer with a range for bobbin from 400 grs to 2000 grs and rotation speed from 1000 to 30000 rpm.
SUPERBA Stand H 4- B 102
SUPERBA S.A.S, a world leader in the manufacturing of heat-setting machines for carpet yarns, has joined in July the Belgian group VANDEWIELE. These two historic and famous names have now merged together to help the industry achieve new heights of innovation, quality and profitability.
Extrusion:
As such, SUPERBA wishes to confirm their strong commitment into the improvement of the global carpet manufacturing process: one extrusion module from VANDEWIELE will be exhibited on the booth, beside their own latest developments: 
Space-dyeing:
The Space-dyeing process for carpet yarn is a growing trend in the manufacturing of tufted or woven carpets. SUPERBA will show their latest dyeing machine type MCD/3: this new version is able to continuously and simultaneously dye a bundle of 72 yarns, with a production up to 400Kgs/h, a range of 6 spot colors, plus one base shade. A software for the creation of colored pattern on the yarn enables to conceive a large range of spot design, from very short-space (20mm) to extra-long-space (150m) that will be printed on the yarn bundle thanks to ultra-fast linear piezo-electric actuators, exclusive to SUPERBA's process. 
Heat-setting:
Famous all around the world for the high quality of their heat-setting technique with saturated steam under pressure for the thermic treatment of synthetic carpet yarns (PA, PP,PT), SUPERBA will unveil their complete new version type TVP3/S, a major evolution of the current TVP3 line. What made the success of the TVP3 has been further improved and redesigned for an even more efficient process, energy saving and ergonomic : with a new type of creel, a new concept for the yarn laying, including a new version of the texturing box, an enhanced accessibility to the tightening heads, a totally redesigned control of the line, and many other improvements, all this, under a new design, this TVP3/S new version prepares the future of the heat-setting by perfectly integrating itself in the heart of the carpet manufacturing process.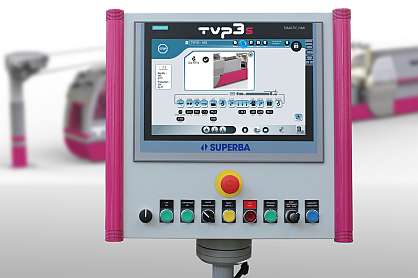 Pic: SUPERBA HMI-TVP3S]
Setting of acrylic:
Finally for the acrylic fiber market (PAN) widely used in top quality carpets with high density, SUPERBA proposes their new LV3 setting line of high production, equipped with their B401 winder with automatic doffing now available in 96 ends; this line, especially designed for the production of thin yarns (1000 & 1200 reeds weaving looms) is able to produce up to 400 Kgs/h.

Hall 6D
DOLLFUS & MULLER Stand H 6 - F102 [pDOLLFUS & MULLER, founded in 1811, manufactures endless felts and dryer belts for the textile finishing and nonwovens factories. The company will exhibit at the coming ITMA show:

compacting felts for knit finishing
sanforizing felts for denim and woven fabrics finishing
printing dryer belts for textile printing
sublimation blankets for transfer printing
decatizing satin wrappers for wool finishing
decatizing felts for wool finishing
dryer belts for thermo-bonding ovens
tensionless dryer belts for knit finishing.
DOLLFUS & MULLER will introduce during ITMA Milano its improved compacting felt for knit finishing with major evolutions versus the other products in order to serve better the dyeing houses. The compacting felt quality brings a special care to the fabrics thanks to its smoothest surface, has an excellent guiding and the best compacting rate in relations with its new exclusive compacting felt design.
The DOLLFUS & MULLER sanforizing palmer felts are ideal for denim producers. At ITMA, the company will as well show its proven durable Sanfor felts.
Furthermore, DOLLFUS & MULLER will display its new durable printing dryer belt quality TAMIP HT 500 NR. This print dryer belt is the most durable printing dryer belt specially designed for pigment printing of bed sheeting. DOLLFUS & MULLER will as well display its exclusive print open mesh belt specially designed for the production of fine fabrics, scarves, flags; these belts have special non marking surfaces which can avoid as well the particles on the back side. DOLLFUS & MULLER has the widest range of printing dryer belts and the strongest dryer belts.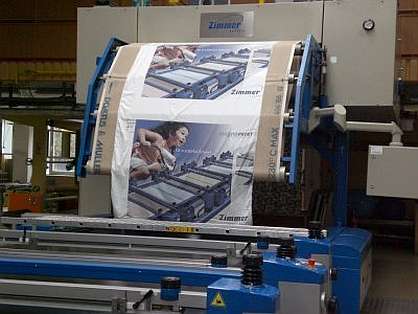 Pic: Dollfus & Muller print dryer belt
[pFinally, DOLLFUS & MULLER will introduce during the coming ITMA its new decatizing wrappers specially designed for the wool fabric finishing and already recognised for their quality and durability. The company will display its 3 new satin wrapper qualities in order to meet any new customer demand.
Hall 8
SCHAEFFER Productique Stand H 8 - B 102
In the digital age where economy accelerates, quickly adapt its organizational model to changes is a vital asset in order to meet new market expectations.
In exclusiveness at ITMA Milan, SCHAEFFER will show a new tool of business process management. Dedicated to textile enterprises, it will bring greater efficiency and flexibility.
Indeed, it enables to energize organizations by making them adaptive. It can be coupled with management systems in place, and can communicate with the standardized platform of digital services EcolTex® (eBIZ).
The ITMA 2015 event is an opportunity to show the power of this tool, designed with the most advanced technologies. It is accessible to large groups such as small and medium textile enterprises. It will allow them to better meet their market while minimizing the required resources, thus combining performance and sustainability.
Hall 10
ALLIANCE Machines Textiles Stand H 10 - A 115
It will be the 6th ITMA in a raw for ALLIANCE Machines Textiles who, for 22 years now, used to look for the most economical solutions for fabrics dyeing, woven or knitted, either in open width or in tubular form.
The air used for opening the fabric in case of the RIVIERA ECO GREEN machine (which is presented on the booth in RIVIERA HT1 100 kg capacity version) enables to dye in very short liquor ratio from 1:2 to 1:3, caring for fabrics quality thanks to a special soft folding / driving system.
The air also used in the rotating beam dyeing machine named ROTORA  (presentation of a 900 diameter ROTORA machine, width 1800 mm) enables an exchange between the liquor and the fabric , two times more efficient than on traditional full bath overflow machines but without increasing the pumps power. This machine enables to dye all kind of fabrics in a liquor ratio of 1:3.
A range of small dyeing machines as well as tumbler finishing machines is proposed with the state of the art technology to get a high reliability (with steam  or electrical heating up to130°C), a good reproducibility when using high capacity machines and to handle fabrics carefully. The LABOJET machine designed for the treatment of accessories such as hooks, bands, laces etc. will be exhibited.
ROUSSELET GROUP - CALLEBAUT DE BLICQUY (CDB) Stands H 10- A 113 / 114
Specialists of dyeing, bleaching, impregnation, carbonizing, this group is entirely involved besides the clients in order to assist them in new global challenges.
Being a fully integrated company, from conception to manufacturing, CDB is able to study any clients' requirements, from the laboratory equipment to the complete processing line.
The perfect technical knowledge of the market and its application, for over a century, allow CDB to offer global solution to any requirement. CDB experts will study your process in order to provide the most and the best efficient equipment for your production request.
During ITMA 2015, the following equipments will be exhibited:
Latest laboratory equipment, ADM (Analyzer Dyeing Master). ADM is CDB process optimization equipment; it gives the tools to analyze the customers dyeing process. Is the selected temperature gradient the best one? Are the dyestuffs efficiently exhausted? How to save money by adjusting and optimizing the process?
ADM is the equipment that gives data to settle the best process.
Top sale continuous hydro-extractor dealing with all wet fibers treatment, the production cost killer innovation.
Batch centrifuges, suitable for any kind of textile, in any form, with its unique range of basket developed to fit any request.
Dyeing machines range with the very low liquor ratio up to 1/1.9. With its exclusive integrated pump installed inside the machine for 100% efficiency, and their ADP (Analyzer Dyeing Process).
The company's strategy is to offer innovative tools to reach the lowest production cost on the market, while taking care of the environment.
Especially thanks to the latest equipment development as ADM, rain dyeing and ADP.
As well as continuous production units for bleaching, dyeing, fireproof impregnation, fibers finishing.
SPOOLEX Stand H 10 - F 104
Since 1955, Spoolex has been engineering and manufacturing quality converting equipment for various industries. After having delivered around 8000 machines in more than 100 countries, Spoolex makes an important step by extending its core competences to become a global partner for converting solutions!
SPOOLEX has, through its worldwide recognized brands CALEMARD®, DECOUP+® and ROLL CONCEPT®, real expertise in slitting, rewinding/spooling, ultrasonic splicing and technical rollers. Today, to meet the needs of high productivity, operator's safety and line flexibility, Spoolex R&D department has developed several automated solutions around these brands know-how to provide complete cell from mother handling to final product packing.
The latest SPOOLEX's Global solution commissioned is a complete converting cell which was engineered and assembled 100% in house. This cell merges all needs of a cutting workshop but with only one control station! The solution developed combines 4 modules - splicing, slitting, handling, packaging -designed and automated to reduce operator handling, to increase line speed and capacities, and to handle 30 different products and wide range of pancakes sizes.
To meet the customer needs of automation adaptability, versatility, Spoolex has designed a complete cell working at high speed (up to 300 m/min), with fine control tension during all the process and integrating all latest automated technologies: semi-automated splicing, fully automated slitting positioning, fully automated handling and packaging.
The customer needs was clear: the converting cell must respond to its specific working process while guarantying high productivity, operator safety, final product quality and production flexibility.
Related News
More News from Union des Constructeurs de Matériel Textil de France

Latest News