ITMA 2015
2015-10-22
Benninger indroduces new solutions at ITMA Milan 2015

Benninger KASAG lye recovery system (c) 2015 Benninger
At the ITMA Milan Benninger will be highlighting the topics of open width dyeing of knitwear on the original Küsters DyePad, the newly developed Technical Textiles Division as well as the topic of Resource Management, an area that becoming increasingly important. For Benninger, assuming responsibility is a matter of course.
"We are committed to sustainability and demonstrate this commitment by investing in the development of highquality products as well as ecologically sound processes. We actively save water and energy. A holistic approach to the relevant factors is just as important to us as the balance between ecological and economic concerns", says CEO Beat Meienberger.
Benninger has consistently extended its product portfolio and developed new products in all of these fields, and the most important innovations will be presented at the ITMA Milan 2015 for the first time:

TEMPACTA washing steamer for knitwear
Benninger-Küsters DyePad for knitwear and woven fabrics
TRIKOFLEX drum washing machine that is now also available for large widths and is therefore particularly suitable for technical textile applications.
The TEMPACTA washing steamer was especially developed for all low tension washing processes and is mainly used for diffusion washing (fastness washing) and for the relaxation of knitwear. As a washing drum can be integrated, an intermediate rinsing process or additional intensification of washing is possible.
With the newly-developed original Benninger-Küsters DyePad dyeing padder, great emphasis was placed on optimum accessibility and short, guided fabric runs. The nip dyeing option helps minimise dye liquor consumption and enables economical dyeing of extremely short batches. Perfect, absolutely reproducible dyeing results are guaranteed by the use of the original Küsters S-roller technology.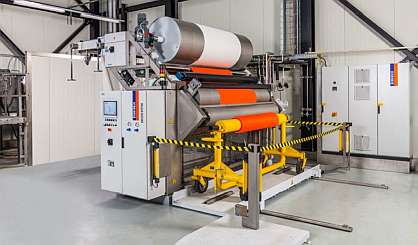 Pic: Benninger Küsters DyePad
With the front and back washing effect, based on the patented double drum technology, the newly redesigned TRIKOFLEX drum washing compartment guarantees a high mechanical washing efficiency. It not only enables low, controlled fabric tension, but also crease-free fabric transport, even with sensitive fabrics. The TRIKOFLEX drum washing compartment also offers another advantage by controlled relaxation of synthetic and elastane fibres.
All these advantages also predestine the TRIKOFLEX drum washing compartment for use with technical textiles. To meet all requirements in this field, the compartment is available with a working width of 5,400 mm. The range for technical textiles is supplemented by the HYDROVAC water removal system and the original Küsters finishing padder. This offers the customers new options in the technical textile field – not only with regard to the technological processes, but also with minimum use of resources.
The name Benninger has always been synonymous with environmentally-friendly textile finishing. For this reason Resource Management will be a central topic at the ITMA Milan.
Individual concepts and solutions for minimising resources will be presented at individual, topic-related island displays. Main areas of focus:
Zero discharge production
Exhaust air and waste water heat recovery
Lye recovery
In so-called zero-discharge production, waste water is recycled. With a Benninger system it is possible to lower the waste water quantity to achieve zero discharge, i.e. completely waste water free production can be achieved.
Exhaust air and waste water heat recovery starts with simple reduction of the radiated heat by means of innovative isolation and continues through to high-efficiency systems for exhaust air heat recovery on cylinder dryers. Benninger uses individually optimised heat exchangers in the waste water heat recovery systems that are already in widespread use, depending on the application process and waste water volume.
Lye recovery, which Benninger recently included in its portfolio, offers considerable advantages during mercerisation. The weak lye is concentrated by evaporating the water and is then available for reuse in the mercerisation process. This enables customers to benefit from both inexpensive and environmentally-friendly production.
Another area of focus in the field of finishing is always minimum use of chemicals.
Intelligent application systems such as the IMPACTA modules guarantee the precise application of chemicals for the respective process without having to draining off the excess liquor. A particularly resource-saving process in this respect is the CPB reactive dying process. After the take-over of KÜSTERS in 2007, Benninger was able to successfully combine the Küsters and the Benninger technologies, especially in the padder, bleaching and dyeing steamer fields.
Visit Benninger at the ITMA Milan and discover both the comprehensive advantages of the Original Benninger-Küsters DyePad as well as the other innovations in the field of wet finishing. Experience the combination of optimum quality with minimum use of resources and lowest production costs. Benninger is looking forward to welcoming any visitor at booth A106, hall 6 at ITMA Milan 2015!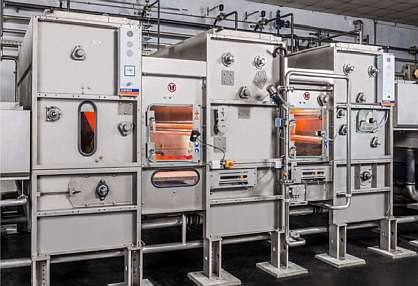 Pic: Benninger TEMPACTA Washing steamer
Related News
More News from Benninger AG

Latest News