ITMA 2015
2015-10-22
Van de Wiele offers complete textile solutions at ITMA 2015 in Milan
Van de Wiele joins forces to offer its customers at ITMA the unique opportunity to discuss about all new developments on carpets. Van de Wiele is the only company that offers complete carpet and velvet (see picture) solutions with machines for yarn producing, weaving, tufting and finishing.
Again, important breakthroughs will be shown during the ITMA in November in Milan. Not only new woven and tufted carpet qualities for area rugs and wall-to-wall, but also new machine generations will be introduced. The constant drive for innovation in Van de Wiele, is leading to new machine developments with more electronic drives, more automation, more flexibility and more productivity.
Visitors will be surprised by the innovation on the extrusion, the tufting and weaving machines, the management control systems and more.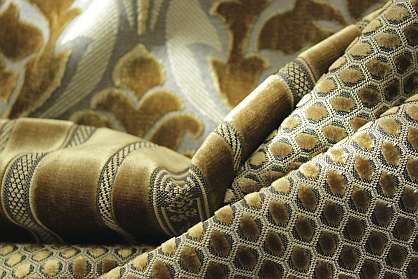 Pic: Jacquard Velvet woven carpet
Companies who want to produce high density carpets in handlook, Axminster carpets, face-to-face carpets, light weight carpets, tapestry rugs, artificial grass, sisal look carpets, flat weave carpets, loop pile carpets or any other carpet, Van de Wiele will look with them to find the best technical solution for producing this carpet.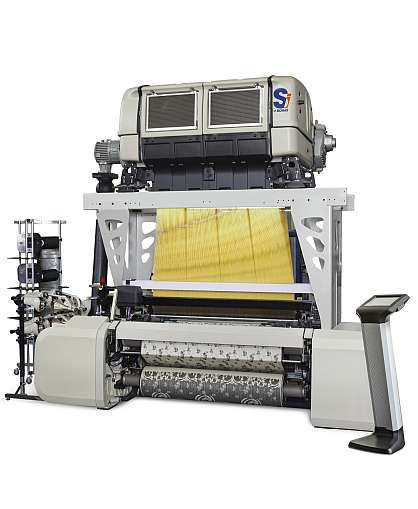 Pic: Bonas Si9 jacquard
For the electronic jacquards of Bonas the focus is on flexibility and productivity.
4 jacquards will be on display ranging from 5000 hooks for terry over 16.128 hooks for high density and fashion articles until 18.500 hooks directly mounted on the loom weaving light carpets and gobelin.
2 machines will be with "smart drive", without cardan shaft, and the terry loom will run at a speed of 900 rpm.
New developments on Bonas and JTS harnesses will be shown for
various kinds of applications. 
Technical textile applications woven on the Van de Wiele distance weave machines VSi42 (see picture) and Bonas H3D will be on display, showing the numerous opportunities with the Van de Wiele/ Bonas machines in that ever growing field going from aerospace applications to safety textiles.
All this can be seen on the Van de Wiele booth in Hall 1 – C101.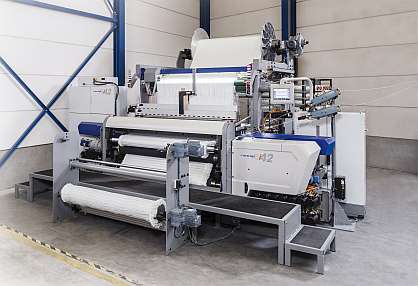 Pic: VSi42 Versatile Smart Innovator for technical textiles

Off stand there will be another 5 Bonas machines running on different looms weaving label applications, high fashion lady apparel and furniture fabric.
itema (H1 - A101) Si5 5184 hooks Furnishing
MEI (H1 - G118) Si9 9216 hooks Label applications
Panter (H3 - E101) Si16 16128 hooks High density ladies apparel
Picanol (H1 - D101) Si14 12672 hooks High fashion ladies apparel / decoration fabrics
Vaupel (H1 - A108) Si9 7680 hooks Label applications 
Related News
More News from N.V. Michel Van de Wiele, Carpet and velvet weaving machines

Latest News