ITMA 2015
2015-10-15
CHTC Fong's presents latest technology at ITMA

CHTC Fong's Industries Company Ltd. will exhibit its latest technology in Hall 10, Stand E101 with its brands FONG'S, THEN, GOLLER, and XORELLA (Hall 2, Stand F109) and present its one-stop sustainable solutions.
This means:
Level-up one-stop sustainable solutions.
Provide automation, intelligent and e-solutions management system to customers.
Provide the best solutions and ultimate added value to customers.
The following equipment of the CHTC Fong's Industries Company Ltd. will be exhibited:
FONG'S
FONG'S JUMBO TEC 3 2T
FONG'S will show its (running) "JUMBO TEC 3 2T" model: the TEC Series High Temperature Dyeing Machine, with its premium quality and the focus on "Lower Cost, Higher Quality and More Eco-friendly". The "JUMBO TEC 3 2T" is suitable for different dyeing processes with various types of natural, man-made fibres and its blends, aiming to provide complete solutions in terms of
Efficiency,
Energy Saving and
Environmental Friendliness.
Efficiency: TEC series is specially designed for delicate fabrics to avoid crease marks for sensitive structures such as 40S/2, 26S/1, 20S/1, dense knitted fabrics, as well as sensitive shades, for example Turquoise.
Energy Savings: Thanks to various new functions, a reactive dyeing process for cotton fabrics takes only some 248 minutes for light colours.
Capacity: The new TEC Series is available in different capacities per chamber: 300 kgs for JUMBOTEC, 250 kgs for MIDITEC and 200kgs for MINITEC. Within this range the customer can choose an arrangement of 1 to 12 tubes.
FC30 colour multi-function controller: Thanks to Fuzzy Logic temperature control functions, the temperature in the dye liquid deviation can be minimized at +/-0.3° C.
With its patented design, the "Lint Collector" is especially designed for loose structure fabrics such as terry and fleece; the collector can accumulate lint at the bottom and discharge it during draining.
The new FONG'S SUPERWIN 145
To take the changing environment situation into consideration, FONG'S launches its SUPERWIN High Temperature Single Flow Package Dyeing Machine at ITMA 2015. This new model is to replace the conventional dyeing machine that consumes a lot more water for dyeing in production. Equipped with a new pump and an efficient motor, the dyeing effectiveness is greatly enhanced.
The launch of the SUPERWIN is the consequence to the trend of the eco-friendly dyeing equipment; it is suitable for various material types such as package, warp beam and loose fibres, etc. During a single inside-out flow process, dry liquor discharged from the pump enters the carries and passes through the spindles. A smaller water level at the kier bottom is therefore required to maintain the steady pump operation. There is no need to have all packages fully immersed with liquor. Moreover, the revolutionary wave dyeing is the technology to execute a specific period of change in pump frequency. This means moving the packages like waves such that the packages can be treated under different pressure to perfectly utilize the advantage of dual flow concept. For this reason a lower liquor ratio (close to 1:3) is achieved.
In order to reduce the production costs, the dehydration of the goods under pressure is achieved by injecting compressed air into the vessel to squeeze residual water. Also, SUPERWIN can reduce the dyeing time by at least 30 minutes and therefore save a lot of cooling water.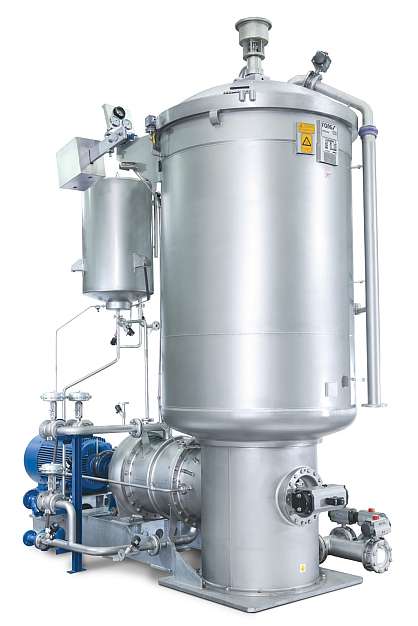 Pic: The new FONG'S SUPERWIN 145
THEN
The new THEN SUPRATEC LTM
Over the years many improvements were made to make the THEN-AIRFLOW® technology even more efficient. However, in times of shorter batches in fabric dyeing the main requirement is flexibility and the fabric weight range. CHTC Fong's Industries Group is presenting at ITMA 2015 a dyeing machine that can accomplish to handle a whole range of fabrics; from sensitive products up to heavy weights. It's called "THEN SUPRATEC LTM". The combined knowledge and experience of FONG'S and THEN led to a series of new and groundbreaking ideas: The "THEN SUPRATEC LTM" is a hydraulic long tube dyeing machine with a variable liquor ratio from short in the semi dry mode up to long in the wet mode.
Benchmarks
Variable angle, defined plaiting without any winch and a liquor ratio which is setting new standards in long tube dyeing are just a few features. The machine is able to dye woven and knitted fabrics, made of natural, man-made fibres and blends. The weight range goes from 25 g/lm up to 380 g/lm. Its high flexibility in terms of liquor ratio and the variable angle of the kier results in considerable savings in additives, water and energy. The current speed range goes from 80 to 600 meters/min. - depending on the fabric type.
Some additional features are:
Liquor ratio 1:5.5 up to 1:15 depending on the variable angle of the kier.
Low power consumption due to variable kier angle.
Up to three jets per tube with up to 1000 meters each.
Up to four tubes with coupling.
Variable nozzles.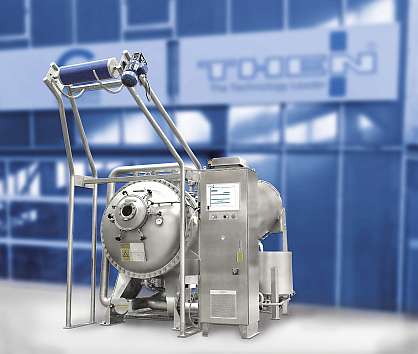 Pic: The new THEN SUPRATEC LTM
THEN-AIRFLOW® SYNERGY 8
THEN will show the latest generation of its legendary THEN-AIRFLOW Technology, the "THEN-AIRFLOW SYNERGY 8". This Aerodynamic High Temperature Piece Dyeing Machine is the best example of how to make good things even better. It is well known that the liquor ratio achieved with the THEN-AIRFLOW principle up to date has not been beaten; the same counts for the versatility. With the latest development the energy consumption is further reduced. Every tube now has an individual frequency controlled blower with less installed power. All the other advantages of the THEN-AIRFLOW SYNERGY series remain unchanged, which leads to shorter cycling times and substantial savings in water as well as high reproducibility and smooth fabric guiding.
Breaking the barrier of loading capacity, the model extends up to 12 tubes with individual control, suitable for various kinds of fabrics with better flexibility, quality and ergonomics.

The redesigned Automatic Chemical Dispensing System (CHD)
THEN's chemical dispensing system CHD was completely redesigned as a compact system to be installed at the most suitable position in the dye house. Based on a patented distribution system and part of the Colour Kitchen Manager (CKM) in numerous installations; it is applied for fully automatic metering and transport of chemicals from storage tanks to dyeing machines. The CKM, designed as a modular system, which can be enlarged is handling weighing, dissolving, storing, transporting, dispensing of liquid and powdery auxiliaries, as well as dyestuff.
The main purpose of the CHD is a fast and accurate delivery of small and big amounts of chemicals to every target in the system and the elimination of mistakes caused by the human factor. The automatic dosing and dispensing for best reproducibility from batch to batch is maintained by a fast high-end extrusion pump in combination with compressed air transportation. By this the low liquor ratio and rinse water consumption will be achieved as the piping is not filled with water. Advantages are
Shortest call-off times.
Reduction of chemical costs up to 20%.
Reduction of labour costs.
Operators are not confronted with hazardous chemicals.
Reduces risks to environment.
No waste of chemicals.
Consumption optimised and controlled.
Controlled weighing and dispensing.
The heart of the CHD is a "Coriolis" flow meter. This provides an extremely high accuracy of ±0.3% compared to a magnetic inductive flow meter with around 1%. Several lines can be operated in parallel. Chemicals and liquid dyestuffs can be dosed in quantities from 50 ml to several 100 litres. A central control from a host system is possible that ensures best repeatability and documentation of all dispenses.
GOLLER
The new GOLLER ECONOMICA
The presented new GOLLER ECONOMICA Dye Padder provides an even dyeing for knitted fabric without crease marks and any other distortion. The GOLLER ECONOMICA guarantees highest standard in reproducibility and handling, resulting in a smooth and clear fabric surface after dyeing.
The deflection controlled rollers of the GOLLER ECONOMICA are working according to the principle of the swimming rollers, irrespective of the overall pressure of the padder. The deflection of the squeezing rollers is always in compliance with the requirements to ensure an even dyeing from one side to the other. On top of that the biggest diameters of guiding rollers ensure a safe fabric transport with little tension. Thermal plates keep the temperature of the dyebath homogeneously within the required limits; whether it is cool or hot.
With the precise dosing of pre-mixed dyestuff-alkaloid, the application of precise and homogeneous pick-up and the linear nip of the deflection controlled rollers, the GOLLER ECONOMICA is the perfect choice for small to medium batches in open-width dyeing and finishing for knitted fabrics.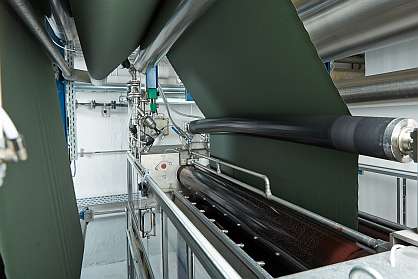 Pic: The new GOLLER ECONOMICA
GOLLER SINTENSA
GOLLER will show a compartment of its SINTENSA washing machine. The principle has an inside rotor speed that is different from the outside drum; consequently the washing liquor collected in between the rotor drum and the perforated drum will be squeezed through the fabric with every turn of the rotor inside out and outside in. This inside rotor generates a constant penetration of the washing liquor through the fabric. During this process the fabric lies flat on the surface of the outside drum and is not exposed to any tension. To secure this almost every roller which is involved in the fabric guiding is driven individually. This allows handling even the most delicate qualities.
On top of that the differences between the different guiding rollers and drums are so little, that the risk of fabric edges curling is limited. The SINTENSA principle ensures that the contamination is not only washed out from the fabric; it is also carried away immediately after to prevent the fabric from re-soiling. An inverter controls the flexible treatment of different fabric qualities. No other system available can provide this feature.
XORELLA
The new XORELLA XO TREND
Established in Switzerland in 1967 XORELLA is ever since at the forefront in yarn conditioning and heat-setting. Since 2002 XORELLA is a member of the CHTC Fong's Industries Group.
At ITMA 2015 XORELLA launches XO TREND, a new machine series to complement XO SMART and XO SELECT. With the existing XO SMART and XO SELECT series small capacity and manual handling to fully automatic vessels integrated in transport automation and packing systems from various suppliers can be processed. All machines feature the energy saving XO-heating system and can optionally be equipped with the waterless vacuum system XO "Ecopac" for maximized savings of precious resources.
The new XO TREND machine series for all low temperature applications incorporates all renowned features of XORELLA machines. New benefits include:
Rectangular shape offering app. 20% better usage of inside space.
Pin trolleys and pallets up to 1800 mm height can be used.
Reduced energy consumption compared to cylindrical vessel.
Improved insulation and cladding.
Smaller pit area compared to cylindrical vessel of similar capacity.
Pit depth for the vessel reduced by 50%, same pit depth like automatic loading platform.
Optimized construction of all components.
During ITMA 2015 XORELLA's staff will be present in hall 2 at booth F109 for further information on the product range. With the new XO TREND and the well-established XO SMART and XO SELECT XORELLA offers efficient and reliable solutions for any conditioning and heat-setting requirements.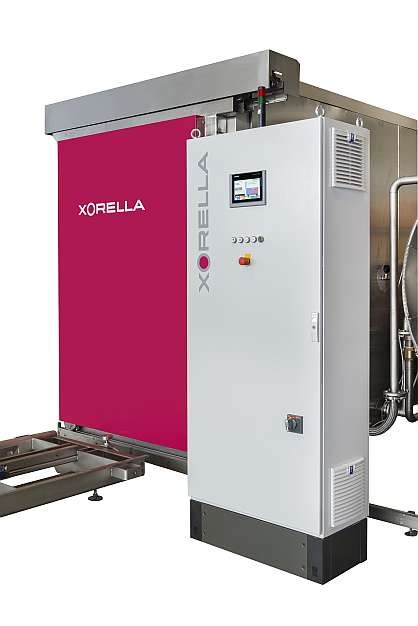 Pic: The new XORELLA XO TREND
Related News
More News from FONG'S Europe GmbH

Latest News