ITMA-Asia + CITME-2016
2016-09-15
VANDEWIELE present on ITMA Asia 2016
As leading textile machinery VANDEWIELE will be present with an impressive booth in Hall 3 – Stand 01, and will present machinery and technology for its 4 application areas: flooring, home textiles, apparel and technical textiles.
Following brands will be present:

BONAS

The Technology Continues

After the successful introduction of the Si with many hundreds of references, Bonas will introduce during ITMA Asia the 'Ji' Range.

The 'Ji' is available in formats from 1920 hooks till 5760 hooks and is the most compact machine on the market.

Three types will be on display.

A 4800 hooks weaving furniture fabric installed on a double width loom. This machine has a dwell build-in allowing a longer insertion time and a smaller shed. Most wide looms require these possibilities as it gives less weft stops and a higher quality fabric.

The second 'Ji' is equipped with 2688 hooks and is producing terry towels. Here we emphasize on the high performance, in a dusty cotton environment. Bonas shows hereby his leadership in the terry field.

The third 'Ji' will produce high quality labels with 2304 hooks, this showing a wide spread of applications for this range. Due to the small dimensions the Ji is very suitable for label weaving and direct mounting.

The 'Ji' is designed in Europe with the focus on the Chinese market where higher productivity requirements are requested to create a high added value. The ji is maintenance free and equipped with the latest filter Technology.

Also a Si with 7440 hooks , single end with a Bonas harness will be on isplay running at incredible high speed of 850 RPM on an airjet loom.

All machines are linked with the new 'Ci' Bonas controller. The Bonas jacquards at the exhibition are equipped with in-house designed and produced harnesses.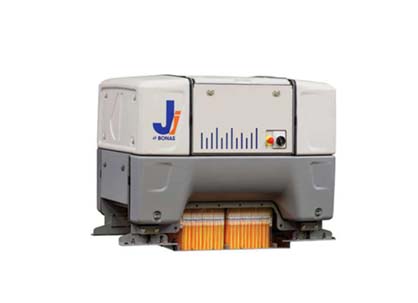 Pic: Bonas jacquard machine
 
VAN DE WIELE Carpet production machinery

VAN DE WIELE offers its customers complete carpets solutions, from granulate to carpet. The portfolio contains BCF extrusion lines, heat-setting machines, tufting machines and carpet weaving machines. The synergy of competences in these different fields not only leads to technical important breakthroughs, but is mainly in the benefit of the customer.

Presentations will be shown about:

The BXE: BCF extrusion line for carpet yarns. This extrusion line produces yarn from different polymers with the highest bulk on the market, thanks to a newly developed multiwrap texturing device without lamellas. The short melt pipe between the extruder and the spinning beam and the round self-sealing spin packs, which are easy to install, are very much appreciated in the market.

Superba worldleader in heat-setting lines. Superba has developed a unique and performing heat-setting system based on saturated steam. With 40 years of experience in the highly specialized field of yarns for tufted and woven carpet, Superba is providing advanced and competitive solutions with a complete range of machines, including space dyeing machines.

The Vandewiele-Cobble tufting machines will present the Myriad and TuftFX machines: each pile yarns goes over a separate roll, controlled by a servomotor, this over the complete width of the machine without any repeat. The servomotor controls the tension in the yarns, creating patterns in the carpet. A cut loop system and sliding needle bars has now been introduced to further extend the design possibilities.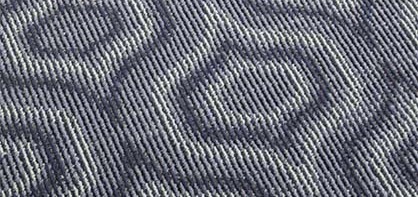 Pic: A Myriad tufted carpet design 
The RCE02 Rug & Carpet Expert carpet weaving machine: the newest generation of double rapier face-to-face carpet weaving machines: equipped with a new Jacquard machine and Smart Frames. This allows weaving carpet qualities which were not possible before like combinations of cut pile, flat weave, double flat weave, double points, filling effects.... The Jacquard uses a new selector, so compact that it uses less then half of the space of the previous generation.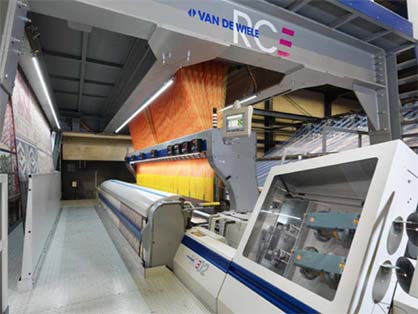 Pic:The RCE Rug & Carpet Expert Carpet weaving machine 
Axminster carpet weaving
A particular successful machine of Van de Wiele in the Chinese market is the MAX91: the axminster carpet weaving machine, combining high productivity with superior carpet quality. In combination with the state of the art Smart Creel a very efficient manufacturing unit can be realized producing samples in combination with large production orders.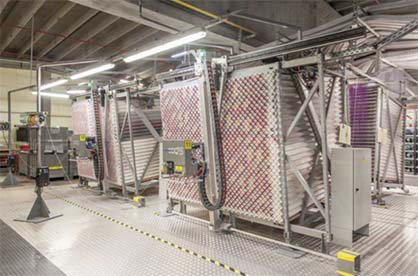 Pic: The Smart Creel on the MAX91 axminster carpet weaving machine

VANDEWIELE velvet and light carpet weaving machines

Based on the successful Velvet Smart Innovator Van de Wiele has created an extensive range of fast face-to-face weaving machine for various applications:


Velvet Smart Innovator for chiffon velvet: for very light apparel velvet with a density over 2000 dents/m
Velvet Smart Innovator 3 m weaving width in plain and dobby execution, for curtain velvet and technical fabrics
Velvet Smart Innovator for long pile applications: for 2 x 40 mm pile height: for imitation fur or technical brush and cleaning fabrics
Velvet Smart Innovator for technical fabrics: in execution for spacer fabrics or multilayer fabrics
Velvet Smart Innovator for jacquard velvet and light carpets (also om 3 m width): width Smart Frames for the ground fabric and SiV jacquard for the pile, or all yarns on SiV jacquard. The SiV jacquard is a new jacquard with the compact microselector, and allows even semi on-loom installation (no separate gantry needed).
Related News
Latest News ITMA-Asia + CITME-2016
More News from N.V. Michel Van de Wiele, Carpet and velvet weaving machines

Latest News