ITM 2018
2018-03-29
Novibra at ITM 2018 in Istanbul
Novibra Boskovice s.r.o., a leading company in spindle technology and the biggest exporter of spindles worldwide, will exhibit the latest innovations for the reduction of spindle energy consumption and maintenance costs at ITM in Turkey. The exhibition is held in Istanbul from April 14 to 17, 2018 at the Tüyap Fair Convention and Congress Center. Novibra welcomes the interested visitors in hall 3, booth 313A.
Spindles with modern ring spinning machines can reach speed up to 25000 rpm. In these high-speed applications energy consumption is an important issue. Novibra displays LENA (Low Energy consumption and Noise Absorption) high-speed spindle at ITM Istanbul.
LENA design has been developed from well-proven Novibra Noise Absorbing System Assembly (NASA), which ensures minimum neck bearing load, minimum vibration and significantly lower noise level at high speed.

Low energy consumption spindle LENA
Less end downs and reduced fiber fly thanks to CROCOdoff
CROCOdoff and CROCOdoff Forte the new generation of clamping crowns introduce genuine doffing without underwinding. Customer may benefit from lower after doff end-down rate, and reduced fibe fly. As a consequence, Novibra components bring reduction of maintenance costs, less waste and due to reduced air friction also significant energy saving.
CROCOdoff can be supplied with a new machine or as an upgrade for an existing machine.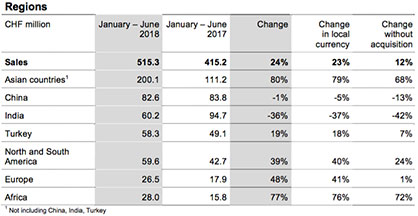 (c) 2018 Novibra
Related News
More News from Rieter Textile Systems

Latest News