Digital Printing
2017-05-11
Aleph LaForte honored with Future Textile Award 2017

Future Textile Award 2017, (c) Aleph LaForte
In the crowded ball room of The Westin Grand Frankfurt Hotel, in front of an international audience of 200 guests, Alessandro and Roberto Manes, Aleph CEO and R&D Director, received the Future Textile Award 2017 plate for the category Best product – Industrial Textiles.
The aim of this biennial event is to honor cutting edge products, processes and treatments in the textile industry and the jury recognized the innovation enhancement of the LaForte platform, already recognized and funded by EU Horizon 2020, phase 2.

"This important recognition arrives after more than 2 years of technical development of our own project related to an improved and integrated solution for digital textile printing, very different and flexible in respect of what was already on the market. We are very thankful and honored and we would like to extend our regards to all the Aleph team!" declared Alessandro Manes. "With great enthusiasm, we will continue to expand our business and guarantee to our customers the best solutions ever!" added Roberto Manes.

Aleph is currently exhibiting the LaForte Paper printer at Fespa Hamburg 2017 in the textile hall.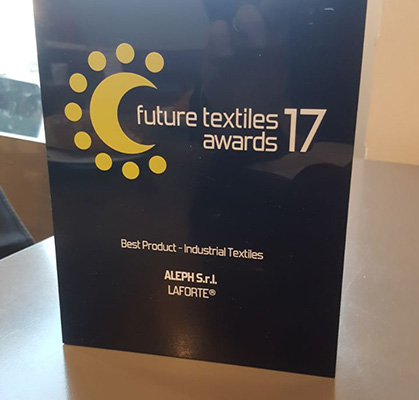 (c) Aleph LaForte
Related News
Latest News Digital Printing
More News from Aleph LaForte
Latest News