Composites
2018-11-01
ITA at the Composites Europe 2018
At the Composites Europe in Stuttgart, the Institut für Textiltechnik of RWTH Aachen University, short ITA, will be showing products, components and machines along the fibre composite process chain. The ITA will present itself at the booth of the Aachen Center for Integrative Lightweight Construction (AZL) in hall 9, booth E70. Various demonstrators will be used to present selected innovative processes and products over the individual steps.
06 - 08 November 2018, Stuttgart, Germany

The exhibits come from different fields of application: From mobility applications to the construction sector. Here is an example from the field of "construction composites":

With the concrete bar stool with hybrid carbon reinforcement, the ITA demonstrates that textiles as reinforcement structures for concrete elements allow a enormous geometrical freedom of Design. So far, manual positioning of the textile reinforcement used to be time-consuming and complex, as permitted tolerances are in the millimetre range. Thus the production mainly contributed to the high costs of textile concrete.

At the ITA, the two industrial partners Albani Group GmbH & Co. KG and DuraPact 2.0 Kompetenzzentrum Faserbeton GmbH developed a new hybrid reinforcement with integrated spacer. This hybrid reinforcement reduces the time required to position the reinforcement by up to 60 percent and thus makes the material significantly more competitive.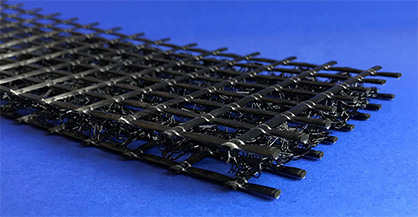 Hybrid concrete reinforcement consisting of a grid-like carbon reinforcement and a mat-like spacer textile, source: ITA
The new, cost-effective hybrid reinforcement contains an integrated spacer and thus faciliates the positioning of dry and coated reinforcements. The integrated spacer allows several layers of reinforcement to be stacked quickly, allowing the desired degree of reinforcement to be set. The hybrid reinforcement consists of a carbon or glass fibre grid joined with a permeable polyamide mat and will be available in roll form from industrial partners in the near future. For further information please contact magdalena.kimm@ita.rwth-aachen.de.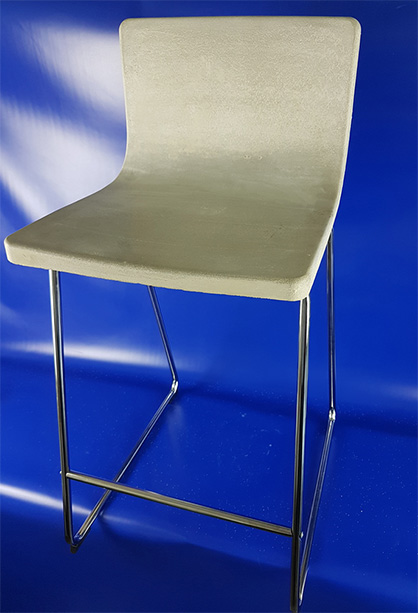 Concrete bar stool with hybrid carbon reinforcement for fast, cost-efficient part production, source: ITA
We would be pleased to show you further exhibits at the AZL booth in hall 9, booth E70. We look forward to seeing you!
Related News
More News from Institut für Textiltechnik of RWTH Aachen University (ITA)

Latest News