Composites
2018-03-01
ITA at the JEC World 2018

AutoTow (c) 2018 ITA RWTH Aachen
At the joint booth of the Aachen Center for Integrative Lightweight Production (AZL) in hall 5A at booth C55, ITA demonstrates its competencies along the whole process chain: From raw materials and fibres to innovative textiles and whole construction components. With the help of different demonstrators, selected innovative processes and products about their individual steps will be presented.
The exhibits cover different fields of application ranging from aerospace to automotive, mechanical engineering, sports equipment. They are also interesting for manufacturers of tapes, fibres and construction components of fibre reinforced materials. Here is a selection:
1. AutoTow – Automatically controlled fibre spreading
AutoTow is a spreading line with automatic control of the spreading width. It generates dry, binder fixated carbon fibre tapes with a homogeneous width and increases the production speed by a factor of 2-3 (up to 100m/min) in comparison to state-of-the-art production processes (up to 30m/min). The spreading width is automatically controlled by online-camera measurements. Further advantages:
Less production waste due to a continuous quality control within the tape production
Ability to set the spreading width during running production, thus preventing an interruption of the production process
The AutoTow spreading technology is interesting for tape producers, fibre producers and manufacturers of construction components. It is ready to be instantly implemented in customer processes. For further information please contact wilko.happach@ita.rwth-aachen.de .
2. Braided hexagon
The hexagon demonstrates the possibility of producing textile reinforcement structures (preforms) from different fibre materials such as aramid, basalt, carbon, glass fibre and UHMW polyethylene fibres in a single process by over-braiding a near-net-shape body. The over-braiding process is used to produce preforms for fibre-reinforced composites with closed cross-section for lightweight applications.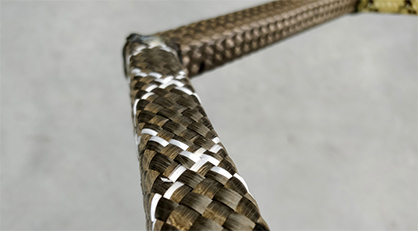 Braided hexagon (c) 2018 ITA
The advantages of this are weight reduction, energy savings and a better performance, e. g. driving dynamics in a sports car. These advantages make the braiding process interesting for aerospace, automotive, mechanical engineering, sports and leisure equipment manufacturers. For further information please contact viktor.reimer@ita.rwth-aachen.de .
3. Hybrid yarn based CFRP with Vectran fibres
The exhibit is made of carbon fibre reinforced composite panels with a varied proportion of carbon and Vectran fibres. The panels enable the production of customised damping characteristics for vehicles with high demands in terms of damping properties. In addition, they are able to achieve a decrease of component thickness and thus a cost reduction. They are particularly interesting for automotive suppliers. For further information please contact klaus.vonberg@ita.rwth-aachen.de .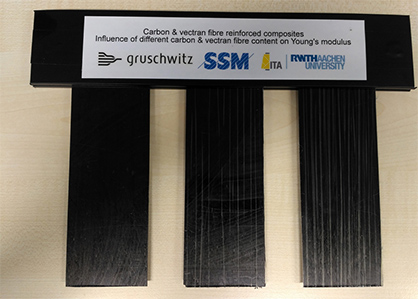 Hybrid yarn based CFRP (c) 2018 ITA
4. Hybrid yarn tank cap

The exhibit demonstrates a consolidated hybrid yarn woven fabric made of carbon fibres and polyamide 6 from Schappe Techniques, France, shaped as a tank cap for cars. Hybrid yarn textiles are crease-free drapable and allow the production of composites made of complex geometries. The tank cap demonstrates that component parts based on hybrid yarn fabrics meet industrial standards in terms of mechanical properties and manufacturability.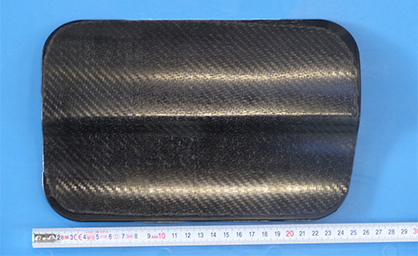 Hybrid yarn tank cap (c) 2018 ITA
Further advantages of hybrid yarn composites are:
Recyclable thermoplastic compound systems
Processability of high viscosity thermoplastics (PEEK or PPS) because of short melt flow distances
High production rates.
Textile fabrics based on hybrid yarns are relevant for companies developing composites with complex shapes. Automotive, aerospace or sports industry could benefit from using hybrid yarn composites. For further information please contact richard.haas@ita.rwth-aachen.de .
5. Laser processing of preforms for fastener integration of force initiation elements

The demonstrator shows the potential of laser material processing for production of components and the realisation of interfaces for multi-material design applications. It presents the benefits of using laser radiation to cut highly precise notches for fasteners into textile preforms. After the curing of reinforced textiles and integrated force initiation elements, the efficiency of the joint patch can be increased. Requested extraction forces are significantly elevated. In sum, there are less force initiation elements and joint patches needed. This leads to reduction in weight and process time in production processes. The amount of requested joint patches can be reduced by 50 per cent. This is particularly interesting for the automotive and aerospace sector. For further information please contact sebastian.oppitz@ita.rwth-aachen.de.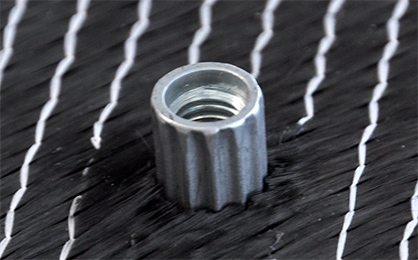 Laser processing preform (c) 2018 ITA
6. Multi-Filament-Wound Pressure Vessel

The Multi-Filament-Wound Pressure Vessel is a pressure vessel based on carbon tow prepreg. It is produced by multi-filament winding process. Its special characteristic is that the rovings can be put down on the vessel core in a non-crimped way. Composite overwrapped pressure vessels (COPV) serve as fuel tank in fuel cell vehicles. They are specifically suitable due to their light weight and high stability. High storage pressures up to 700 bar can be tolerated and the range of the vehicle can be increased at the same time. The vessels were produced by Murata Machinery Ltd, in Japan with the multi-filament winding process. The machine in Japan processes up to 180 rovings simultaneously and thus produces a complete fibre layer on the core with only one step. The production speed increases significantly in comparison to conventional wet-winding processes. The machine was specifically developed in order to produce COPVs for gas storage in vehicles with fuel cell drive. For experimental purposes, ITA owns a prototype of the machine (MFW48-1200) from Murata Machinery Ltd, Japan. It processes up to 48 rovings simultaneously.
Multi-Filament-Wound Pressure Vessel (c) 2018 ITA
Advantages are:
The cycle time for the described multi-filament winding process is up to 50 times lower than conventional wet-winding processes
It is a highly productive process for applications in large-scale productions
The non-crimped structure offers excellent mechanical properties.
These advantages of the process are particularly interesting for users and manufacturers of pressure vessels and users of winding techniques. For further information please contact pia.muench@ita.rwth-aachen.de .
We are looking forward to your visit in hall 5A at booth C55!

Related News
More News from Institut für Textiltechnik of RWTH Aachen University (ITA)

Latest News