Composites
2018-01-03
Kordsa's investments continue at a great pace through capacity increase
(c) 2018 Kordsa
Kordsa, operating in tire, construction reinforcement and composite technologies in a wide geography from America to Asia Pacific with the mission to reinforce life held a groundbreaking ceremony for an additional line in Izmit, Turkey to increase polyester yarn capacity by 7 thousand tons on Tuesday, December 19th. In addition to this new polyester yarn line investment, Kordsa also held a groundbreaking ceremony for the "polypropylene monofilament" line in the field of construction reinforcement.
Kordsa, a Sabancı Holding subsidiary, the world's leading nylon and polyester yarn and cord fabric producer, made a groundbreaking ceremony on December 19th, to expand its polyester capacity at its Izmit plant in order to meet the growing demand. Following the completion of the building construction and upon the arrival of new equipment, Kordsa aims to have an additional polyester yarn capacity of 7 thousand tons with an additional 3,500 m2 area in the current facility by 2018.
Cenk Alper, Sabancı Holding Industry Group President, emphasized Kordsa's success as the only global brand of the Group and its leadership in innovation in his speech at the groundbreaking ceremony. Alper said: "We proudly witness the global success of Kordsa, one of the major ambassadors of the Sabancı's vision. Kordsa's success story has started 44 years ago in İzmit and today, Kordsa has turned into a world leader. Kordsa reinforces 1 out of every 3 automobile tires and 2 out of every 3 aircraft tires manufactured globally. To maintain our technology leadership and move it even further, our smart investments continue without slowing down. In the fast-paced digital world, Kordsa will strengthen its presence day by day with its innovative technologies and continue to reinforce life. I wholeheartedly believe in it."
Kordsa CEO Ali Çalışkan expressed his gratitude in capacity increase and also shared the good news that they would also continue to expand their product line. Çalışkan said: "Kordsa's strong growth momentum continues. In 2017, we have globally adopted important investment decisions and strong business partnerships while reinforcing our success with domestic and international awards. We are proud to globally represent both our company and Sabancı Group as well as our country."
"This investment in İzmit, where we started our journey 44 years ago, is a major step for our global leadership. Kordsa's first R&D Center was also established in İzmit. The role of our İzmit factory in Kordsa's long-term expertise in reinforcement technologies and its market leadership is enormous."
"In 2016, we announced our USD 30 million investment of additional capacity in our facilities in Turkey and Indonesia. With the new line in our İzmit plant, we will be able to meet the growing demand faster and more efficiently. I am glad to share with you that our new polyester yarn line in Indonesia is operational now. We increased the polyester yarn capacity in this facility by 7 thousand tons."

"This investment will strengthen our position in the Asia-Pacific market that we have been operating since 2007. With our intensive R&D efforts and open innovation mindset, we will continue to invest in developing innovative, value-added products that globally shape the industry. "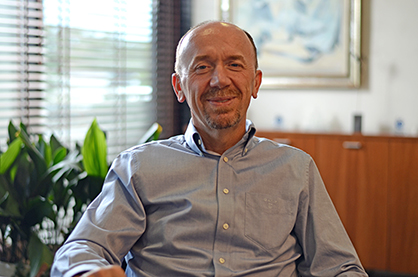 (c) 2018 Kordsa
Kadir Toplu, Kordsa's COO for Europe, Middle East and Africa region, gave detailed information about the capacity increase as well as expansion in product range: "As Kordsa, we distinguish in the construction reinforcement market with easy-to-use products that provides durability and high performance. Now, we expand our product range with the investment of 'polypropylene monofilament', which is a new type of our synthetic fiber reinforcement product, Kratos. Following its launch in 2018, this product will offer both sustainable high performance for our customers with its durable characteristic as well as cost advantage compared to its benchmarks in the market. We will provide this efficient and durable fiber reinforcement material both in Turkey and the European market. Kratos adds value to the tunnel and infrastructure projects as well as provides cost advantage, which differentiates Kratos from its competitors. This is a new product that excites us with all these features. We will continue to reinforce the world with our technology and products that change the rules of the game."

Related News
More News from Kordsa Composite Technologies

Latest News