Spinning
2017-08-09
Substantial upswing in orders and sales in Oerlikon' s Manmade Fibers Segment
Global economic confidence has improved markedly over the past few quarters, with stronger trade, robust demand, and upturns in industrial and capital investments. The upward trend in investments was noted in practically all of Oerlikon's key end markets, such as aerospace, automotive, general industries, tooling, filament equipment, agriculture, construction and transportation, all of which have contributed to the Group's strong performance.
In the energy and mining sector, a slight increase in investment activity, particularly in US shale oil and gas, was observed and is expected to have a positive impact in the coming months.
"We successfully delivered another quarter of strong performance and growth in all Segments. We were able to master the challenges of the markets by clearly focusing on developing sales while improving our cost structure. As a result of our strategic actions, we captured many opportunities that arose from the pickup in our key end markets and increased orders and sales in all Segments," said Dr. Roland Fischer, CEO of the Oerlikon Group.

"Our increased focus on the surface solutions business has borne fruit, and we have achieved higher year-on-year orders and sales. We strengthened our business offering through two technology acquisitions and investments in four service and coating centers, and made important progress in our additive manufacturing business. In the manmade fibers business, the significant increase in sales and orders mainly reflects the ongoing recovery in investments in filament equipment, as well as the expansion of our position in the staple fibers market. The repositioning of the drive systems business, new customer wins and development of new applications in areas such as e-mobility have opened up attractive long-term prospects for the Drive Systems Segment," added Dr. Fischer.
"The strong second quarter performance confirms that we are on the right track with our strategy. We are confident that going forward, we can further leverage our business model and competences in surface solutions, advanced materials and materials processing."

Oerlikon Group second quarter review

The Surface Solutions Segment continued its positive momentum and grew its second quarter orders and sales. Demand came from most of its end markets, with a stable up trend in automotive and aerospace and notably higher uptake in general industries and tooling. Even after accounting for the investments in the additive manufacturing business and acquisitions to strengthen its portfolio and competences, the Segment succeeded in maintaining its quarterly operating profitability at over 20 % for the eleventh consecutive quarter.
The manmade fibers business recorded a substantial uptick in orders and sales, driven by the recovery of the filament equipment market in China, new wins in South America and large projects in India and Turkey, and was also supported by a healthy demand for staple fibers systems. The Drive Systems Segment increased orders and sales as the Segment's repositioning enabled it to benefit from the recovery in the agriculture, transportation, construction and automotive markets, and it is establishing a promising position with customer wins in e-mobility.

In the second quarter, the Group's order intake increased year-on-year by 21.9 % to CHF 724 million, while sales went up by 19.4 % to CHF 689 million. At constant exchange rates, sales stood at CHF 693 million. EBITDA for the second quarter increased to CHF 92 million, corresponding to a margin of 13.4 %. EBIT for Q2 2017 was at CHF 44 million, or 6.4 % of sales. The second quarter performance resulted in the rolling 12-month Oerlikon Group return on capital employed (ROCE) of 6.2 % versus 6.9 % (normalized for restructuring and impairment effects) in the same period in 2016.

Oerlikon Group half-year overview

In the first half of 2017, the Group's order intake increased year-on-year by 21.6 % to CHF 1 436 million, while sales came in at 10.9 % higher than the prior year, reaching CHF 1 297 million. With the top line increase, the EBITDA for the half year amounted to CHF 178 million, corresponding to a margin of 13.7 %. EBIT stood at CHF 84 million, or 6.5 % of sales. Result from continuing operations increased by 54.8 % to CHF 48 million, and the net result for the first half of the year increased by 11.6 % year-on-year to CHF 48 million as well.

In the first six months of 2017, Oerlikon's service business contributed to 35.7 % of total Group sales.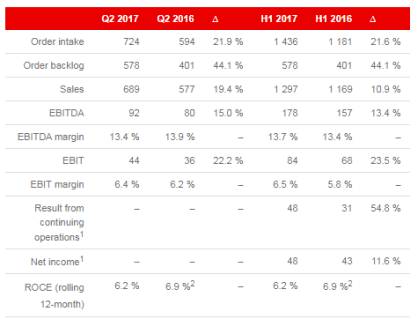 Key figures of the Oerlikon Group as of June 30, 2017 (in CHF million)

1 Reported annually and semi-annually only. 2 Normalized; excluding restructuring and impairment effects.
2017 outlook confirmed

The positive momentum in the global economy in the first half of 2017 is expected to persist in the second half of the year. Growth for the full year is projected for the advanced economies in Europe and the USA, as well as in Asian markets, particularly China and India. Given today's integrated global economy, certain political and economic risks and challenges will remain. However, based on the strong performance in the first half of 2017, Oerlikon confirms its outlook and is confident to deliver order intake and sales of around CHF 2.6 billion each and for the EBITDA margin to approach 14 % after absorbing the unchanged planned financial outlay for investments in additive manufacturing.

Manmade Fibers Segment

Key figures of Manmade Fibers Segment as of June 30, 2017 (in CHF million)
The Segment succeeded in further strengthening its position on the filament equipment market and is benefiting from the recovery in the filament equipment market both inside and outside of China, with new customer wins in South America and large projects in India and Turkey.
The Segment increased its orders and sales significantly in the second quarter, which can be attributed to the recovery of the filament equipment market and was supported by a healthy demand for staple fibers. With the implementation of its "From Melt to Yarn" strategy, the Segment also secured an order for a filament spinning plant for special yarns, including polycondensation equipment. A positive trend was also noted for texturing technologies (DTY) for installed-based partially oriented yarn (POY) systems and for bulked continuous filaments systems (BCF – carpet yarn), particularly in the US and Turkey.

The ramp-up in production, capacities, investments and the ongoing impact of lower-margin orders from the down-cycle period resulted in a lower operating profit (EBITDA margin) than in the previous year. EBIT for Q2 2017 stood at CHF -1 million (Q2 2016: CHF -6 million). In the second half of the year, the Segment anticipates ongoing positive development in the filament equipment market and in its other end markets.
Furthermore, it will be focusing on improving flexibility and the quality of work, processes and customer projects, while exercising strict cost discipline, which is expected to have a positive impact on operating leverage and the Segment's profitability in the next quarters.

In order to meet the increasing demand in all of its business areas, the Segment has been ramping up its production capacities. It has also opened a new service center in India to better serve local customers' needs in close proximity. In addition, the Segment has established a branch in Neumünster, Germany, which will be focused on developing the business for nonwovens, including in the attractive high-growth market for disposable nonwovens.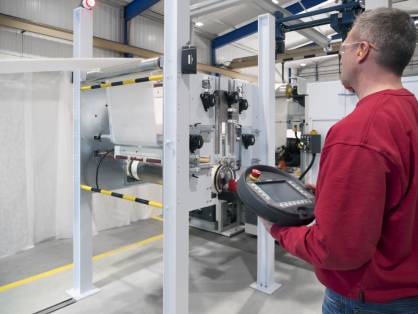 At the Index 2017 in Geneva Oerlikon Neumag premiered its newly-developed concept for electrostatically charging meltblown nonwovens (c) 2017 Oerlikon
Related News
More News from Oerlikon Textile GmbH & Co. KG

Latest News